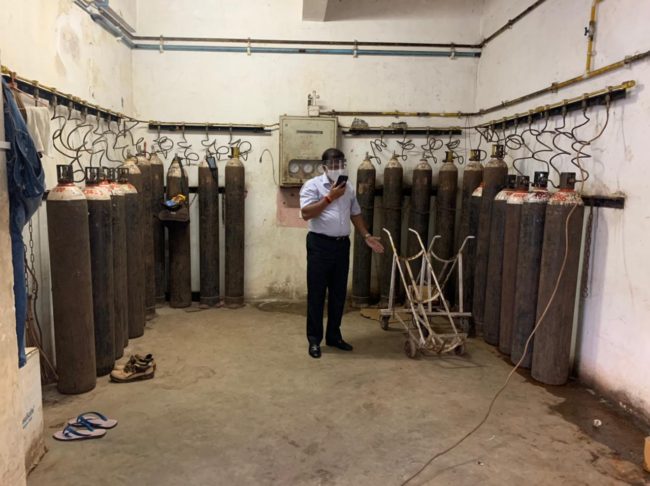 SURAJ NANDREKAR
PANAJI: They betrayed us on Mhadei water diversion, they betrayed the State on mining and the Central Narendra Modi Sarkar has again proved that Goa is of no significance for them and the lives of Goans do not matter.
Yes indeed, at a time when the COVID19 patients in Goa are gasping for Oxygen, the Modi Sarkar has shockingly reduced Goa's liquid oxygen supply to the State.
A order has been issued on April 24, 2021 by Nipun Vinayak, IAS, Joint Secretary Ministry of Health & Family Welfare, New Delhi says "In continuation of the earlier orders issued regarding supply plan for medical oxygen, a revised compiled order is being issued for States / Union Territories as listed," it said.
"This is in view of the increased demands from the State's on quantity of Oxygen supply and its source. The supply plan has been prepared under the overall guidance of the empowered Group – II by the DPIT in consultation with the concerned ministries, State, Oxygen manufacturers and AIIGMA," it added.
According to the order Goa is getting the lowest liquid Oxygen supply in the entire country of just 11 tons per day.
Earlier, the State supplier M/s Scoop Industries was buying at least 40 tons and this order has been the major reason for shortage of Oxygen in hospitals, sources said.
"The chief minister, health minister and other officials have been trying their best but the order has not been amended and it has been having catastrophic effect on Oxygen supply in the State. Everybody is running helter-skelter to arrange Oxygen," the official said on condition of anonymity.
Even union territories like Chandigarh and Dadra & Nagar Haveli and Daman & Diu are get 20 tons a day each.
Goa is getting 11 tons now from Kolhapur Oxygen and Acetylene.
As per the order, Maharashtra is getting the highest supply with 1784 tons, followed by Gujarat 975 and Karnataka 802 tons.
Compared to Maharashtra, Goa is getting just 0.61 per cent of liquid Oxygen.
Supply inadequate: Scoop Industries
As per Sanjeev Naik of Scoop Industries Pvt Ltd, the supplier of Oxygen to almost entire Goa, the supply of just 11 tons to Goa is inadequate.
"Our demand today is 40 tons of liquid oxygen for converting it into gas and filling the cylinders," he says.
He added, "we require minimum of 4,000 cylinders throughout Goa which is almost 1 cr liters a day and demand could grow to about 3 cr litres.
While Scoop Industries is supplying 3000 cylinders a day to government hospitals, Sanjeev Naik says, Govind Poy is supplying 300 cylinders and a few more are coming from S.A Oxinitro.
No Shortage: GMC Dean
Despite the shortage, Goa Medical College Dean Dr Shivanand Bandekar says there is no shortage of Oxygen in State.
"Our demand is 1 cr liters a day and demand may grow, but we have made enough arrangements besides a new Oxygen plant is expected to be ready within 15 days at GMC," he said.
Supply from Bellary
Meanwhile, sources said that 20,000 litres of liquid Oxygen has been arranged from JSW plant in Bellary, which is helping the cause for now.
Comment