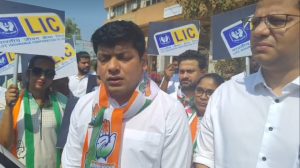 Goemkarponn desk
PANAJI: Amid the ongoing Adani-Hindenburg row, the Goa Pradesh Congress Committee (GPCC) protested outside the State Bank of India (SBI) Margao Branch and Life Insurance Corporation (LIC) offices at Patto-Panaji.
This comes after the Opposition parties demanded a discussion and an investigation into allegations of fraud and stock manipulation levelled by the US-based short seller Hindenburg Research against the Adani Group that led to a massive rout in the latter's stocks.
GPCC President Amit Patkar said the opposition parties want day-to-day reporting of the Joint Parliament Committee (JPC) or a Supreme Court-monitored probe into the issue concerning public money.
As per the Congress, the recent meltdown in Adani Group shares is a "scam" that involves common people's money as public sector LIC and SBI have invested in them.
"The people of India have seen how the wealth of Gautam Adani has increased over the years. Those people who had invested in LIC, their money is gone. Day by day, the shares of Adani are on the fall," said Patkar
He further said that SBI ad LIC are the main investors in the Adani Group. This is the money of middle-class Indians.
"Rs 80,000 crore loans had been granted to Adani Group by banks. This is a financial fraud," he said.
Leader of Opposition (LoP) Yuri Alemao said that there is a blood bath in the Adani stocks, and the people are losing their money.
"The question arises on SEBI and RBI being the financial regulators of the Country, how was this done without them noticing. Lic is losing Rs 36,000 crore while SBI is losing Rs 27,000 crores; how was this amount given to Adani" said Alemao.
Alemao also questioned the BJP for supporting such crony capitalists.
"The BJP is not in the position to have a debate on the Adani crash. I demand a joint parliamentary committee," he added.
A US short-selling firm Hindenburg Research had put out a report alleging Adani group's businesses have engaged in fraud and stock price manipulation. The Adani group has denied this.
Comment