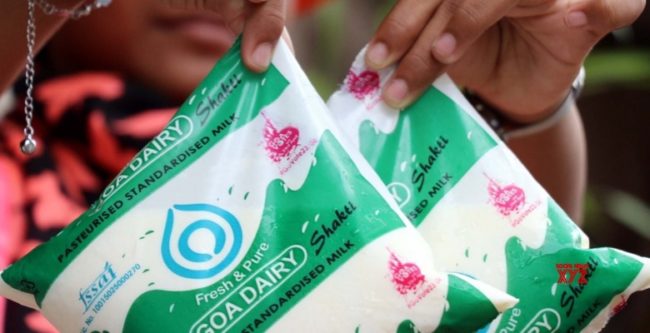 Goemkarponn desk
Ponda: Goa Dairy four farmers, including former Chairman Anup Desai, Pramod Sidhaye, Vaibhav Parab and Adinath Parab, filed a petition in court alleging that there has been fresh recruitment of 25 employees in Goa Dairy.
The farmers said the recruitment includes two women above 45 and one woman of 50 years, which is against recruitment violation norms.
Besides this petition of former Chairman Rajesh Faldesai petition is also pending in court with respect to earlier recruitment in Goa Dairy.
According to former Chairman Anup Desai it is not fair to appoint more staff than the required capacity.
"Goa Dairy has already faced losses, and when the Administrative Committee was appointed by Government on Goa Dairy in the past, there was the decision by it not to recruit more staff and also curtailed working of Goa Dairy in three-shift to two-shift," he said.
However, in the past two months, around 25 employees have been recruited, and Goa Dairy Management is responsible for this, including three members of Government appointed Administrative Committee led by Administrator Durgesh Shirodkar as the MD of Goa Dairy, he said.
Anup said if this continued, it may turn into a loss-making unit like that of Sanjivani Sugar Factory.
He said the farmers had complained to the Registrar of Cooperative Societies (RCS).
"It's a month now there is no response, so We approached court said," Anup Desai.
Meanwhile, Goa Dairy MD Anil Fadte rejected the farmers claim and clarified that just seven posts were vacant after the retirement of Dairy staff.
"No excess recruitment. One lady aged 50 is recruited as per relaxation for ST. I reject the claim of farmers that Dairy has recruited 25 extra staff," he said.
Fadte says some people are after spoiling dairy reputation for vested interest.
"Current milk sale of Goa Dairy in Market is 60,000 litre per day. There are 181 milk supplying societies in Goa Dairy, and some farmers started milk farming activities at Vasco, and due to their demand, Goa Dairy is likely to add one more milk collection society," he said.
Comment