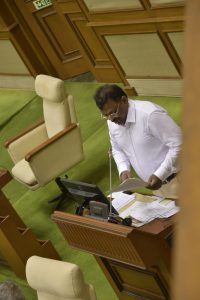 Goemkarponn desk
PORVORIM: Calangute MLA Michael Lobo today demanded that Berger Becket coating Pvt Ltd at Pilerne industrial estate be shifted elsewhere as it posed a danger to houses located within 70 meters of the unit.
Calangute MLA Michael Lobo was speaking during the Calling attention put forth by him and Vasco MLA Daji Salkar.
Lobo said that the paint factory which caught fire at the Pilerne Industrial Estate was hazardous and demanded its relocation, even as panchayat members of Candolim and Pilerne met Chief Minister Pramod Sawant and made a similar demand.
Lobo said that there is fear and anxiety in the minds of the people of Calangute, Pilerne, Saligao and Porvorim due to the sudden outbreak of massive fire at the Berger- Becker Paint factory at Pilerne Industrial Estate at Saligao.
He said that the sudden pollution created in the form of carbon monoxide and various other harmful gases in the environment could create health issues, especially for high-risk people with asthma or chronic respiratory illnesses and infants.
"The paint company stores thousands of litres of turpentine, an inflammable product, in the basement, which can catch fire anytime. It is hazardous and falls within the vicinity of Candolim and Pilerne villages. There is a risk to people staying in these villages. The factory needs to be relocated away from human habitation," Lobo said.
"The wells in the village are already polluted, and due to the topography of Saipem, the locals do not get PWD pipeline water. We need to act fast," he added.
"The water of the wells in the said areas has also been contaminated and not safe for drinking purposes, especially in Saipem Vaddo of Candolim villages," said Lobo.
Chief Minister Pramod Sawant reacting to the demand, said that responsibility in the Pilerne fire incident would be fixed after getting a report from the committee formed to investigate it.
Environment Minister Nilesh Cabral said Goa State Pollution Control Board ( GSPCB) immediately deployed both its Mobile ContinuousAmbient Air Quality Monitoring Machines, one situated at Pilerne, Saligaoand one downwind at Panaji.
"The Department of Environment and Climate Change withtheGSPCB has also started monitoring the water quality of the SaipemLakeand 3 wells around Saipem vaddo of Candolim village on 11/01/2023," Cabral said
The minister also said that GSPCB shall continue with the weekly sampling of the well water, review the reports, and suggest remediation.
Comment