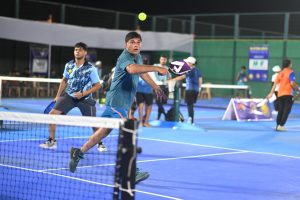 Goemkarponn desk
PANAJI: The Goa Pickleball Association (GPA), affiliated with the All India Pickleball Association (AIPA), has announced ambitious plans to revolutionize the world of Pickleball in Goa. Guided by President Manoj Patil, Secretary Parag Chauhan, and Treasurer Praveen Shenoy, along with a dedicated team of members, the GPA is committed to promoting and developing Pickleball in Goa, aiming to create a vibrant Pickleball community and establish Goa as a national and international hub for the sport.
In an impressive display of dedication, the GPA successfully organized four remarkable events within a span of just one month since its formation. The highlight was the esteemed 3rd Pickleball National Ranking Tournament, held in collaboration with the Sports Authority of Goa, at the Tennis Courts in Fatorda, Margao, from May 19 to 21. This prestigious tournament attracted top players from across India, showcasing intense competition and fostering a spirit of camaraderie among participants.
The GPA also conducted two workshops for physical education teachers in collaboration with the Directorate of Sports and Youth Affairs. These workshops aimed to introduce Pickleball to teachers in North and South Goa, with approximately 150 participants in total. Additionally, a three-day certified Umpires clinic was held concurrently with the National Tournament, providing hands-on training to 50 participants in umpiring skills. These initiatives reflect the GPA's commitment to popularizing the sport and ensuring its sustained growth in the region.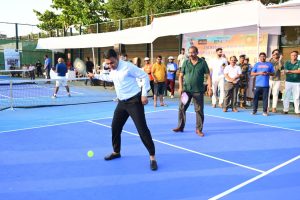 With its unique blend of badminton, tennis, and table tennis elements, Pickleball offers a delightful and accessible sporting experience for people of all ages and skill levels. Looking forward, the Goa Pickleball Association has set its sights on further developing the sport across the state. Their vision includes introducing Pickleball to various starred hotels, educational institutions, and taking the sport into various Talukas in Goa. There are plans to also host notable national and international events and championships in Goa, creating a platform for players from around the country and the world to showcase their skills and foster the growth of Pickleball as a global sport.
President Manoj Patil expressed his enthusiasm for the remarkable interest in Pickleball in Goa, emphasizing, "Pickleball serves as a gateway to an active and healthy lifestyle. Its exceptional accessibility sets it apart, requiring minimal equipment and being adaptable to various settings. We plan to introduce children and players of all ages to this affordable sport. Shift their focus from mobile phones to the sheer joy of physical activity. We invite everyone to join us on this exciting journey and discover the thrill and camaraderie that Pickleball offers. Let's make Goa a hub for Pickleball, where passion and excellence collide on the courts."
Noel Noronha, a former State Table Tennis champion, who won Silver at the National Tournament, praised the game's simplicity and inclusivity. Reflecting on his experience, he remarked, "Pickleball seamlessly combines elements of various racket sports, making it an incredibly engaging and inclusive game. My wife is the reason I continue playing all sports today. However, till Pickleball, she never really showed any interest in coming on to the court and was happy to be the motivating partner. During a Pickleball demo, she really got involved, and now we have procured our own portable net to have some family fun and engagement along with our sons. The beauty of Pickleball lies in its ability to bring families together and to share joyous moments playing the game, which could be played anywhere."
Comment