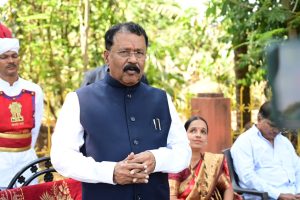 Goemkarponn desk
SANKHALI: Governor P. S Sreedharan Pillai today visited Sattari taluka to see ancient and old heritage trees and learn about the rich eco-cultural traditions of these trees as part of 'The Goa Saimik Daiz (Natural Heritage) Yatra.
On his arrival, MLA of Parye Constituency, Smt Deviya Rane, welcomed the Governor.
Governor offered the prayers at Dattatreya Temple in Sankhali and then proceeded to Parye Bhumika Temple to pay obeisance to the ancient Peepal Tree standing therein.
He said that Raj Bhavan will sponsor 25 Konkani language books in the State and informed Konkani writers who have not published any book but have talent and desire to publish books Raj Bhavan will bear all the expenses, details of which will be announced soon.
Speaking further Governor said that after successfully completing the Goa Sampurna Yatra, this Goa Saimik Daiz Yatra related to ancient and old heritage trees of Goa has been started.
Raj Bhavan has so far identified 41 such trees, which are spread over various talukas of Goa. A special book Goa Saimik Daiz Yatra" showcases all the heritage trees. He also pointed out that only some tourist like beaches – some tourist also prefer to know the ancient and old heritage culture of the State, and some tourist also wants to study the ancient places and trees.
This book will help tourists identify ancient and old heritage sides in the State. He added that trees of Goa, published by the Raj Bhavan, will be the tourism getaway.
He also informed that after completing the Goa Saumik Daiz Yatra he will visit all 9 islands in Goa.
Later, he visited Thane Panchayat near the temple of Kolgiro and Mudalgiro to see Jamun and Astonia trees.
MLA Smt Deviya Rane informed that all efforts are made to promote hinterland tourism and said the book based on the journey of Goa Saimik Daiz Yatra will definitely be very beneficial for everyone across the country. Thanking the Governor for all the guidance, she said that initiatives like Goa Sampurna Yatra and Goa Saimik Daiz Yatra have never happened in Goa before. She also thanked Governor for promoting each and every aspect of Goa through his books to the world.
Environmentalist Rajendra Kerkar explained the rich history and importance behind each tree to Governor during his visit.
Former Secretary to Governor R. Mihir Vardhan, Mamlatdar Dasharath Gawas and other senior officers were present.
Comment