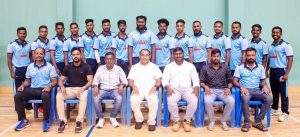 Goemkapronn desk
PONDA: Goa Tennis Ball Cricket Association have selected the following players who will represent Goa in the 1st All India Tennis Ball Cricket League 2023 to be organise at Gorakhpur UP from 1st to 6th September 2023.
Goa Team Players& officials:-
1.SHUBHAM PATHAN; 2.PRANAY GAONKAR; 3.SHUBHAM GAUDE; 4.SANKET MORAJKAR; 5.VISHWAJIT FADTE GAONKAR; 6.MOHSIN SHAIKH; 7.GAURESH NAGVEKAR;
8.AKSHAY JOGLE; 9.RAHUL PAGI; 10.SATYAWAN VELIP;
11.PRITESH GAONKAR; 12.NITESH VELIP; 13.MAHINDRA VELIP; 14.MANGESH GAONKAR; 15.SURAJ VELIP; 16.CHANDAN DONGREKAR (Asst. Coach/Manager); 17.HEMANT KHOT (Chief Coach); 18. SHYAMSUNDER AIER (Mentor).
This is the first National Tennis Ball Cricket League organised by the Tennis Ball Cricket Federation of India to give a professional look at the game which is a recognised sport of the Ministry of Youth Affairs and Sports, Govt of India.
The league winner will get cash of Rs.3 lakhs, the Runner up Rs.2 lakhs, 3rd place team will receive 1 lakh and 50 thousand respectively besides many individual prizes and team prizes. The league will be telecast live on the Sports channel.
Altogether 16 teams will play High league, League and knock-out matches to declare the winner as per the organisers.
The Goa team were accorded official farewell by the association at Ponda Goa in the presence of Rupesh Naik, Secretary, GTBCA, Shri.Kirtan Vaiz, Ramdas Varak, Virendra Majik (all GTBCA Taluka convenors), Premanand Naik, Shyamsunder Aier (Mentor ), Chandan Dongrekar (Asst. coach/ Manager) & Hemant Khot (Chief Coach)
The Goa team will leave on 29th August 2023 by train.
Comment