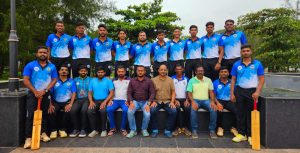 Goemkarponn desk
PANAJI: Goa Tennis Ball Cricket Association have selected the following players in men section who will represent Goa State Team for the All India Inter Zonal Tennis Ball Cricket Championship to be held at Sundernagar Himachal Pradesh from 5th to 7th August 2023.
1) Abhishek Gaonkar 2) Deep Palni 3) Harsh Gala 4) Sarvesh Gawas 5) Smitesh Sawant 6) Kaushal Churi 7) Akshay Satarkar 8) Samarth Naik 9) Maruti Patil 10)Shoaib Ansari 11) Punit khandeparkar 12) Mahadev Malik 13)Saheel Gawde 14) Akash Lamani
The above teams will leave on 2nd August 2023 by train and will return on 10th August 2023.
The teams were selected based on the performance in the pre coaching Camp held at Marcel Goa.
The team photo with Chandan Dongrekar, Sandeep Navik, Shyamsunder aier, Ramdas Varak (all taluka convenors of the association)along with Haresh Parsekar,Nilesh Naik & Hemant Khot (All Coaches of SAG) at Campal Panaji Goa taken on 31St July 2023 at 4pm.
Comment