Goemkarponn Desk
PANAJI: Enthu Buddies, a prominent community of Masters players, will organise the 2023 edition of the Enthu Badminton league, which will take place from May 11 to May 14 at the Indoor stadium Campal in Panjim, Goa. This event is being organized in collaboration with the Panjim Badminton Club.
Enthu Buddies is a Whatsapp community of Masters players who meet annually or bi-annually at various locations around India, participating in badminton events along with various fun and entertainment activities. The community comprises of prominent coaches, State Association office bearers, Technical officials and includes many National Masters champions.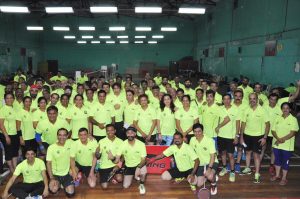 The Enthu League has been one of the most vibrant, active and much awaited events for Masters players over the past 5-6 years. Says Bibhash Chatterjee, one of the Founding members of the community: "The significance of the Enthu Buddies league lies in the fact that it not only brings together the Masters players but also strengthens the bonds of friendship and camaraderie amongst the participants. It is an event that we look forward to every year, and we are proud to be a part of the largest group of Masters players in India."
Enthu Buddies have successfully organized various editions of the League in different locales around the country. Last year's edition was held in Ooty, while Goa will host the event once again, for the fourth time in the last five years.
According to Tournament Director Sandeep Heble, "Players from different parts of India are extremely delighted whenever the Enthu League happens in Goa. The enthusiasm and passion for badminton that the players bring to the tournament is unmatched, and we are confident that this year's edition will be no exception."
Individual events in various categories such as Doubles and Mixed Doubles across different age groups will be held on May 11, and from May 12 to May 14, 8 teams will compete for the coveted Enthu League trophy in a round-robin format. The League promises to be a thrilling experience for players and spectators alike.
Comment