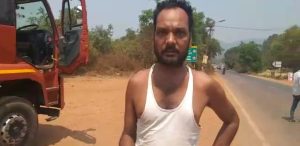 Goemkarponn desk
CANACONA: In a warning to the drunk drivers on Goan roads, some vigilante youths in Canacona pulled –down a driver stopping him from driving a loaded Truck at Gulem before handing him over to the police for the conduct of medical tests.
With an overwhelming increase of road mishaps and accidents on the Canacona section of NH-66 road, mostly involving inter-state Vehicles, some youths in Canacona stopped a driver noticed coming out of a Bar-n-Restaurant from taking on the wheels to drive on the highway at Gulem on Monday afternoon.
According to sources, a haphazardly parked Cement Blocks loaded lorry/truck bearing registration no. KA25AB5995 at the NH-66 roadside at Gulem got the attention of some passersby/motorists.
And out of curiosity, while the youth stopped and still observed the haphazard way and dangerous parking of the almost overloaded Interstate vehicle, a short time later, they saw a man coming out from a nearby Bar-N-Restaurant.

The man was noticed twice almost tripping down while walking back to the truck, and in the same inebriated condition, got into the Truck Cabin and started the truck engine. The youths, on seeing his intoxicated condition, asked the driver to come down of the truck cabin and began to question him if he was drunk. While the visibly looking heavily intoxicated man refused to accept he was drunk, the youth equally adamant told the driver he was not allowed to resume driving in such conditions, and if allowed, he'll put the lives of others at great risk. As the loaded truck with Cement Blocks was headed towards Margao, he was told clearly that he wouldn't be able to negotiate the narrow NH-66 section of Gulem and, after that the Karmalghat section but instead risk his own and the lives of other motorists.
The youths then informed Police, who came a short-while later and took the Vehicle papers and the drunk-looking and behaving intoxicated driver in their custody.
The driver was taken away by the police in their police Van to conduct medical tests at Community Health Centre.
A few other people also informed the police that the man, coming down after haphazardly parking the loaded truck in an unsafe manner, was seen already drunk and couldn't keep his balance walking in an inebriated state to the nearby Bar-n-Restaurant and falling twice before regaining himself.
Comment