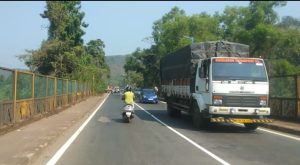 Goemkarponn desk
PONDA: After the inauguration of the New Zuari bridge, the burden on the Borim bridge has been reduced to a huge extent and given some respite to villagers of Borim facing frequent traffic congestion due to long queues of loaded heavy traffic.
The Cortalim cable-stayed bridge was inaugurated on December 29 by Union Minister Nitin Gadkari, and since then, has been open for heavy traffic, which was earlier diverted through Borim as the Old Zuari bridge was called weak.
According to Borim villagers, more than a decade ago, the Old Zuari bridge was closed to heavy-loaded vehicles, and since then, heavy traffic has been diverted through Borim Bridge, putting a tremendous burden on this bridge.
The locals were complaining that the bridge was meant for 30-tonne vehicles; however, in recent times, with increased capacity, heavily loaded trucks and containers were travelling on it at a time with more than double carriage capacity causing fear among locals that it may collapse anytime.
A few years back, there was panic among locals when Borim bridge started showing signs of damage at its joint, which was soon repaired by NH.
Locals struggled to cross the other side of the road due to non-stop traffic. Locals constantly demanded new Borim Bridge and Bypass road to eliminate the problem.
When asked about the dilapidated condition of around 38-year-old Borim Bridge on account of heavy traffic diversion over the past decade, PWD Minister Nilesh Cabral said that the new Borim Bridge will be taken after the completion of missing link road work.
Cabral said the new bridge would connect the missing link towards the Borim side.
He admitted that the Borim bridge is used too much; however, from time to time, its strengthening work is taken by NH officials, and now after the inauguration of the Cortalim bridge, you can see the traffic burden reduced on it.
Comment