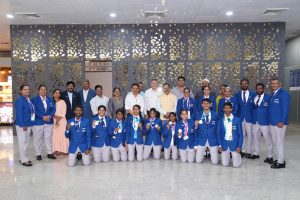 Tiny State records best-ever haul of 19 medals at Special Olympics World Summer Games in Berlin
PANAJI: The triumphant Goan squad landed at the Dabolim Airport following
their victorious exploits at the recently-concluded Special Olympics World
Summer Games Berlin 2023.
Subhash Phal Dessai, Minister of Social Welfare and Guruprasad R. Pawaskar,
State Commissioner for Persons with Disabilities, were joined by sitting MLAs
Aleixo Reginaldo Lourenco of Curtorim and Aldona MLA Adv. Carlos Alvares
Ferreira as the Goan squad 23 landed on an Air India flight from New Delhi, late
on Wednesday.
Also in attendance was Luis Fernandes, Vice President, Special Olympics Bharat
Goa, Area Manager Vrushali Cardozo and Victor R. Vaz, National Sports Director
of Special Olympics Bharat along with parents, heads of various special needs
institutions and more than 200 supporters who had travelled to welcome the
athletes from the Goan squad of 13 athletes and ten officials.
The squad exited towards their parents, relatives and friends with a raucous
welcome at the airport from the sound of drums and traditional folk music
instruments.
The Goan squad made a significant contribution to the final medal tally of 202
medals of the Indian contingent. Goa won nine gold, five silver and five bronze
medals – by far among the best performances from the smallest State in India.
Four Goans – Venson Paes, Aman Nadaf, Francis Parisapogu and Joel Rodrigues –
were a part of the gold medal winning football squad, while Siya Sarode picked up
a couple of golds in powerlifting.
Diminutive Geetanjali Nagvekar won a gold in the 800 metres, while Manfil
Ferrao (men's basketball) and Veena Naik (women's volleyball) accounted for the
remaining three gold medals.
The five silver medals came from Siya Sarode (powerlifting), Geetanjali Nagvekar
(400 metres), Aayush Gadekar (men's volleyball), Taniya Usgaonkar (roller
skating) and Aslam Ganjanavar (judo).
The five bronze medals for Goa came from Gayban Mulla (mini javelin),
Usgaonkar (roller skating), Siya Sarode (powerlifting) along with two women
footballers, Gayatri Fatarpekar and Kajal Jadhav.
Medal-winning athletes in the past have been felicitated by the Government with
cash awards with gold medal winners receiving Rs 5 lakh, silver medallists getting
Rs 2 lakhs and R 1 lakh for the bronze medal winners.
Athletes from Goa have been consistent with their medal-winning performances
ever since Anthony Colaco debuted with a gold medal in the long jump for men at
the 1991 Minnesota Games.
Since then, Goa has won a total of 102 medals in the seven editions of the Special
Olympics Summer Games.
"There are no short cuts in achieving such glory for the State and the country. It's
all about proper planning and hard work," noted Victor R. Vaz.
"This time we were better prepared for the Berlin Games as we got the athletes
together a few weeks before they travelled to Germany in the middle of June. The
athletes deserve all this adulation and good will that is being showered upon
them," he added.
Comment