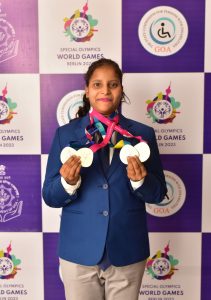 Goemkarponn desk
PANAJI: Siya Sarode's journey from being an orphan to a para-athlete is nothing short of remarkable. Despite facing adversity and growing up without a family, Siya refused to let her circumstances define her future. She found solace in her dreams and pursued her passion for athletics with determination.
Despite limited resources, Siya practised and excelled both in sports and academics. Her talent and hard work caught the attention of the National para-athletics association, leading her to participate in the Berlin Summer Special Olympics held recently.
"Siya has overcome all odds and challenges to achieve her dreams of becoming a para-athlete. She has not only brought glory and pride to our nation by winning three medals at the Berlin Summer Special Olympics but also shown us that nothing is impossible when you have a strong will and a positive attitude. She is a role model and an inspiration for all of us, especially for those who face difficulties in life," said Guruprasad R. Pawaskar, State Commissioner for Persons with Disabilities, Goa.
Against seasoned athletes, Siya proved her mettle by securing three medals. Her achievement not only made her village – Sanguem, proud but also served as an inspiration for many facing challenges. Siya's story serves as a shining example of what can be achieved when one refuses to give up on their dreams.
Hailing from Goa's Sanjay Centre for Special Education, Siya's journey has been marked by adversity. She encountered obstacles while arranging the necessary legal guardian documents to travel to Berlin. However, with the intervention of the Chief Minister's Office, Siya obtained the required paperwork just in time to participate in the games held in Berlin.
"Siya has also shown us the true spirit of Special Olympics, which is to celebrate diversity and inclusion. She is a champion and a leader for all the special athletes in India. I applaud her for her outstanding performance and wish her more success in the future," said the National sports director of Special Olympics Bharat, Victor Vaz.
Siya's gold medals were earned in the categories of deadlifts and squats, accompanied by a silver in a combined category and a bronze in bench press. With her talent and determination, she has proven her worth as a valuable asset to the country
The Berlin Summer Special Olympics was held in Berlin, Germany. The event welcomed 7,000 Special Olympics athletes and Unified partners from approximately 190 countries to compete in 26 sports. The athletes were supported by more than 3,000 coaches and 20,000 volunteers. Some of the sports included athletics, badminton, basketball, beach volleyball, bocce, bowling, cycling, equestrian, field hockey, football, futsal, golf, gymnastics – artistic and rhythmic, handball, judo, kayaking, open water swimming, powerlifting, roller skating, sailing, swimming, table tennis, tennis and volleyball.
Comment