Goemkarponn Desk
CANACONA: Puraskar envisages a recipient to continue the noble works one is doing with even more vigour than what one have done and presently doing, stated Partagal Swami Vidhyadhish explaining what a Puraskar in Sanskrit means.
Shrimad Vidhyadhish Teertha Swami Maharaj was speaking at the Shree Samsthan Gokarn Partagali Jeevottam Math Puraskar gave away it's prestigious awards to some of the distinguished personalities of Saraswat Community at a glittering ceremony held at Partagal Math. Awards in a special ceremony held at Portgali Math on Thursday.
Shree Vidyadhiraj Award, Shree Jeevottam and Shree Purushottam awards were given for outstanding work in the society by Shree Sansthan Gokarna Portagali Jeevottam Math, and were presented by Shrimad Vidyadhistirtha Swami Maharaj in a special ceremony held at Portgali Math Vastu on Thursday.
This year's the 44th Vidyadhiraj Award is given to Dr. M. Jagannath Shenoy of Mysore, Shree Jeevottam Aw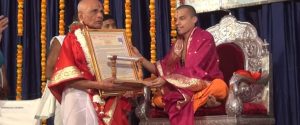 ard to Adv. Prakash Prabhudesai and Mahesh Sunder Nayak were awarded while Sri Purushottam Award was given to Vedamurthy Anant Purushottam Bhat, Varadaraj Bhat from Kumta and Balkrishna Laxminarayan Bhat of Kundapur.
The award of Vedamurthy Varadaraj Anand Bhat will be handed over to his family on Ram Navami.
The Vidyadhiraj award carries a cash Rs.75 thousand, a certificate of Honor, a shawl, a shrifal, and the replica of the Jivottam Math. While the Purushottam award carries Rs. 50 thousand in cash, a certificate of Honor, a shawl and Shrifal.
Shree Sansthan Gokarna Portagali Jeevottam Math Committee President Srinivas Dhempe, Vice President R. R. Kamat, Shivanand Salgaonkar were present.
Gokarna Jivottam Partagal Math completed 548 years, completes 550 years in 2025.
The program was started by Ved Ghosha, and the President of Math Committee Dhempe welcomed and introduced.
The program was moderated by Anil Pai while Shrimad Vidyadhish Swami Maharaj further said working hard without expecting anything in return, but the society takes note of the people who give their share of income to charity, helps the needy, and serve the Guru Matha.
Also narrated to the Recipients of Vidyadhiraj, Jeevottam and Purushottam Awards history of fifty years of Guru Peetha tradition in a way they have spent their lives for the community is recognised by the Math Srinivas Dhempe, the President of the Math Committee expressed the opinion that the Math is celebrating its 550th year in 2025 and on that occasion, the celebration has already started at this place.
At this time Mrs. Pallavi Dhempe, Meenakshi Kamat, Deepa Pradeep Pai respectively Mrs. Shenoy, Mrs. Bhat's mine was filled with coconuts.
A large number of followers from Goa, Karnataka and Mumbai attended the ceremony.
Comment