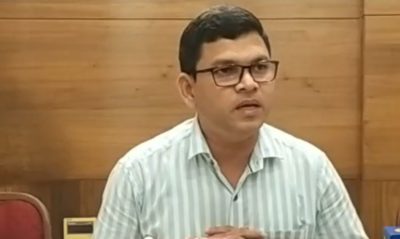 Goemkarponn desk
PANAJI: Sanguem MLA Prasad Gaonkar today said that the state government has handed over 4 lakh sq meters and not 2.5 lakh sq meters.
Addressing a press conference, Gaonkar said that the state government is just faking on such an issue and giving false information.
"As per the latter issued, the state government has handed over 4 lakh sq meters of land for the National Institute of Forensic Science (NFSU), " said Goankar.
Gaonkar also questioned whether the state government had held a general body meeting of the sugar factory to hand over the land to NFSU as it is a cooperative society.
"The government is trying to destroy the sugarcane industry in the state. Let the CM say that whether he wants to finish this industry," he said.
He further showed a letter wherein the South Goa Collector has officially handed over land approximately 4.00Lakhs sq. mts of Sanjivani Sahakari Sakhar Karkhan Ltd. Dayanandnagar, Dharbandora, for setting up the campus of National Forensic Science University.
The Union Home Minister Amit Shah had recently laid the foundation stone for the NFSU project.
Comment