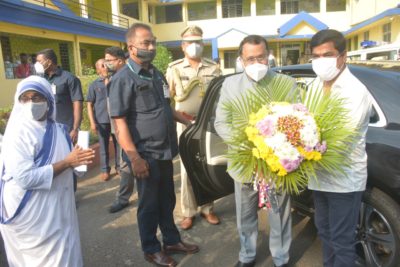 Goemkarponn desk
QUEPEM: Governor of Goa, P. S. Sreedharan Pillai today visited and saw for himself the working of Missionaries of Charity, St Joseph Home, Quepem, an old age home.
Speaking on occasion, the Governor said that service to humanity is regarded as service to God. He said we all are under the umbrella of God, which means no one is an orphan in this world.
The word orphanage is used just for convenience, he said.
He appreciated the work of the sisters/nuns and was happy to meet the special people whose care is taken by almighty God.
"This institution is working hard and sincerely takes care of humanity," he said. He said that all human beings should respect and work for humanity irrespective of caste, creed, religion, and any other differences.
The Governor appealed to the inmates and management to visit Raj Bhavan once the situation of pandemic ends. Praying to God to give a peaceful life to inmates, sisters, and everyone who serves humanity, he added that they will be protected by God.
The Governor was welcomed by Deputy Chief Minister, Chandrakant (Babu) Kavlekar.
Superior, Sister Padma while welcoming, appreciated and admired the decision of the Governor to reach out to the homeless, sick and suffering, the orphans and old age persons. Presently there are 55 inmates, she said. Inmates presented welcome and action songs.
Financial assistance under Raj Bhavan discretionary fund for dialysis patients and orphanages were handed over to the beneficiaries at the hands of the Governor.
Comment