Goemkarponn desk
CANACONA: Even as locals thought that after the Manohar Parrikar Sea-side road linking Char Rasta to Mashem was thrown open in 2019, the traffic issues in the cramped town of Chaudi will end, but the problem has become more acute as motorists scramble to find a parking slot in the town, haphazard parking and no traffic sense is also a leading factor for traffic chaos in the town mostly during the first half of the day, motorists and pedestrians complain.
Even as campaigns and rallies are organized every year to raise awareness on traffic rules and road safety on the occasion of National Road Safety week, smooth traffic and safety concerns in Chaudi town in Canacona have not been ensured till date many say.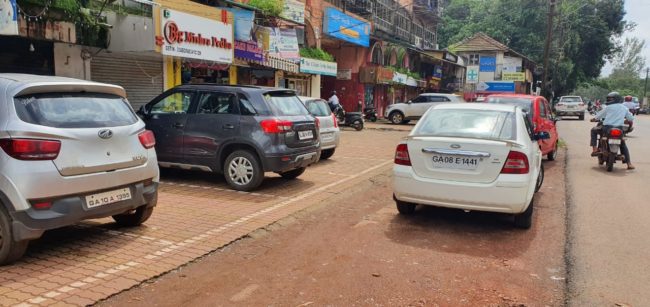 Traffic problem has become acute due to the mindless parking of vehicles one behind the other in front of shops.
At some places, an absence of certain facilities like signboards has compounded the problem as many visiting Chaudi, the commercial and administrative town of Canacona, face parking woes and mini traffic congestion daily.
Diogo Da' Silva, president of the traders of Goan origin, is the one who continuously takes up the issue with both police and the traffic cell for last many years with little success.
Speaking with Goemkarponn Da' Silva informed that the number of vehicles in Canacona has grown exponentially. In contrast, the parking spaces have remained the same, which leaves the roads in the town crammed with traffic snarls. The parking of vehicles one behind the other is causing mini traffic snarls in the town, he informed.
This scene is routine from the Canacona Health Centre at Sheller up to Char Rasta and Chaudi to Ponsulem Da Silva.
Anil Bhagat vice president of the traders association informed that he, along with other association members, met both the station in charges of police and traffic cell to apprise them of the chaos in the town.
"We know that it is not possible to overcome this issue overnight, but with good policing, this issue can be appropriately handled," Bhagat expressed.
"Many people complain to us about two or three policemen on duty in the town standing at one place chatting or busy on their mobiles, we have brought this to the notice of their in charge, and hopefully, we expect improvements," Bhagat said.
Many complained that the traffic comes to a standstill on Saturday, which is the bazar day as everyone flocks to the market on that day, the roads in the town brim with both vehicles and pedestrians. Also wild riding of vehicles adds to the problem.
Locals observed that policemen posted in the town should be more active and enforce strictly proper parking in the parking slots, Bhagat said.
Comment