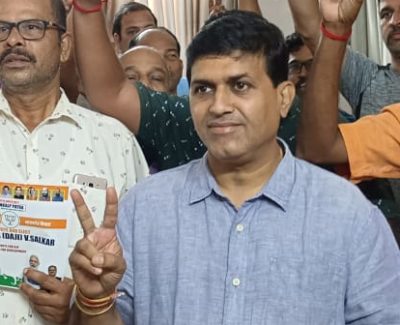 Goemkarponn desk
VASCO: Cutthroat competition in the Vasco constituency is visible. Congress party's Almeida and BJP's Daji Salkar are going to people with common promises of the primary health centre, market complex, KTC bus stand, up-gradation of sports facilities, upgradation of existing infrastructure, fire station etc.
Former Vasco BJP MLA and present Congress candidate of Vasco Carlos Almeida is now going before people seeking votes on the Congress party hand symbol.
In his manifesto, Almeida has mentioned that he will shift the Mata secondary and municipal high school to a better location for providing better infrastructure for students; he will give information and assistance in terms of giving jobs in government, private, semi-government sectors and will also going to support unorganised workers like farmers, vendors, fishermen etc. In terms of infrastructure, he has stated that he will complete the Kadamba bus stand, fire station, up-gradation of grounds, fish market complex, fishing jetty in Vasco, improvement of electricity, beautification of Church square etc.
Urban health centre and the beautification of Baina beach to attract tourists are also on the card of Almeida this election. He has been getting a good response, and since he has joined the Congress party, the minorities this time are likely to vote for Congress in Vasco.
On the other hand, Vasco BJP candidate Krishna (Daji) Salkar has already started gaining momentum during the campaigning days; many people, including the minority communities, taximen have extended their support to Salkar. He is going to the people with his vision 2022 manifesto in which Salkar has promised to build a fire station, improve the sewerage system of the town, modern market complex, beautification of Maimollem and Sasmollem lakes, up-gradation of playgrounds, centralised administrative block for all public services, a primary health centre in Vasco, state of the art Kadamba bus stand, Sports arena, improved water supply, underground cabling, up-gradation of existing infrastructure etc. are the works present in the Vision 2022 of Salkar.
In Vasco, it is a straight fight between Congress versus BJP. Last election Salkar, an independent candidate, lost with a skinny margin against Almeida, the BJP candidate. This time, things are opposite: Daji Salkar is handling the BJP flag in Vasco, and Carlos Almeida is the arch-rival of the BJP, which is the Congress party.
It will be interesting to see whether people will reflect the two times BJP MLA on the Congress ticket in Vasco or replace it with the new BJP MLA that is Daji Salkar.
Comment