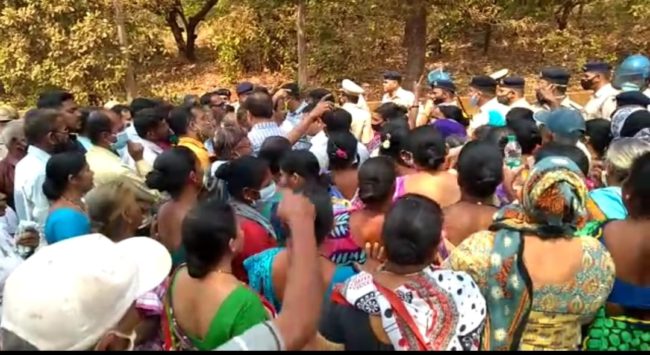 Goemkarponn Desk
Pernem: Hundreds of people including farmers and villagers of Dhargal, Varkhand Nagzar, Tuladkardi and others areas are detained by Goa Police and taken to different police stations in North Goa while they agitated outside the Mopa airport site and opposed demarcation of land for the proposed 6 land link road from Dhargal to Mopa Airport.
Police force of around 800 police personnel is presently deployed outside the Mopa Airport site.
Agitators claimed that if the goverment is not doing any illegalities then there was no need for police protection.
"We have been arrested for trying to save our land. However, this pressure and threats of Government will not deter us from protecting our motherland," said a farmer.The women complained that there were no lady police and they were pushed by the male policemn into the police vans.
"Without giving the order, the survey work has began. We are not going to allow the government to as survey the land nor acquie this land. If the goverment is not trying to grab the land then there was no need for police protection," the agitators said.
They stated that the Goverment have trying to grab the land which they will not allow.
"Police may charge us with any section, we are ready to go in the jail or even die but we will not allow grabbing of land", agitators stated.
Comment