I did not BETRAY anyone; I stayed loyal till the end of term: Jayesh Salgaocar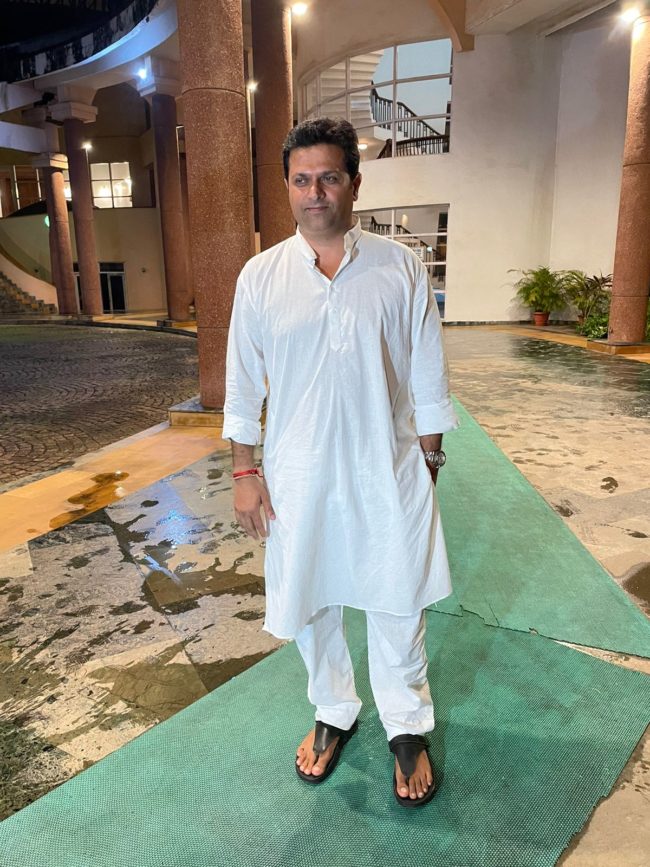 Goemkarponn desk
PANAJI: In yet another political development at night in Goa, Goa Forwards Saligao MLA Jayesh Salgaocar resigned as a member of the House.
Salgaocar tendered his resignation before Speaker Rajesh Patnekar at around 10 pm.
Speaking to the media, Salgaocar said he resigned as an MLA and would join the BJP tomorrow.
"I have not betrayed anyone. I have tendered my resignation at the end of my tenure," Salgaocar stated.
He says he has no complaint about Goa Forward or President Vijai Sardesai.
"I like the functioning and development carried out of the BJP Govt and Chief Minister Dr Pramod Sawant," he said, adding "I feel if I join them, I can develop my constituency better."
Jayesh speaks to Goemkarponn Editor Suraj Nandrekar soon after the resignation.
Excerpts:
Goemkarponn: What is the reason for the sudden resignation today?
Jayesh Salgaocar: I resigned as the primary member of the Goa Forward Party, and now I have resigned as the Member of Legislative Assembly. It was a well-thought decision taken by me after consulting my supporters. So you cannot say it was an overnight decision.
Goemkarponn: But you had always denied a move to join BJP. Isn't it?
Jayesh Salgaocar: Well, there were talks, people had approached me, but they were rumours to tell you frankly. Even when I did not meet any leader, there was news in newspapers I was meeting BJP in Delhi, Panaji. One paper wrote about me joining Congress a few days back. I mean, I never met any Congress leader. If I remember, I had told you Suraj, whenever I will join anywhere will tell you. I do not like to play hide-n-seek.
Goemkarponn: So what was the reason for quitting Goa Forward? Did you not see any future in that party now?
Jayesh Salgaocar: It's nothing like that, but I see more and better chances in a national party. BJP is a party many people follow. My earlier experience and the current one is different. You have seen the works I have been carrying out in my Constituency with the support of the Chief Minister, and I feel in future, too, this will continue.
Goemkarponn: Did you consult your voters before this decision? What about the resentment in BJP block in Saligao?
Jayesh Salgaocar: My supporters and well-wishers told me that BJP has a future and the Constituency has maximum BJP workers, and I decided to listen to my workers and betterment of my Constituency.
About the resentment in the BJP block, I don't know about that, but I will talk to each and every member. In my full term, I have not hurt any voter in Saligao, be it Goa Forward, Congress or the BJP. I have taken everyone along during all my programmes without considering the party affiliation. Their resentment is justified, but I will sort it out whatever differences are there. The senior BJP workers have spoken to me and welcomed me.
Goemkarponn: You were very vocal against BJP; what made you change your stance?
Jayesh Salgaocar: Well, many criticised BJP, but today they are with the party. In politics, statements change with time. Over a period of time, I have learnt that if you are going to develop the Constituency, you have to be with a party like the BJP. But I have realised that in the last five years, more than BJP MLAs, my works were sanctioned.
Goemkarponn: Isn't your decision betray people's trust and the party which gave you the chance to enter politics?
Jayesh Salgaocar: I now took this decision as I promised Vijai Sardesai loyalty, served my full term and did not ditch anyone in the middle. There were several instances wherein I was approached with lucrative offers for a separate government without Vijai Sardesai, but I refused. Now I have to go to people, and for that, I have to show them the development roadmap. Now people will decide whether to elect me or not. I am not a jumping jack. I have taken this decision for my people and my Constituency. So the question of betrayal does not arise.
Goemakrponn: But don't you think you would not have been what you are today without Goa forward?
Jayesh Salgaocar: I cannot forget Vijai. When nobody was ready to give me a ticket, Vijai held me to victory and supported me. But there comes a time you have to make a decision. I have taken my decision. Though not directly, I have already indicted the move to Vijai.
Goemakrponn: Looking at public sentiments, do you think the BJP will form the next government?
Jayesh Salgaocar: The response for BJP is clear that the party will form a government.
Goemakrponn: Now, who initiated the talks with you to join BJP?
Jayesh Salgaocar: The Chief Minister, Dr Pramod Sawant himself, approached me based on survey reports and the performance of Jayesh Salgaonkar.
Goemakrponn: Minister Michael Lobo played a big role in your victory in 2017. Now he is on the verge of joining Congress as per rumour mills. How do you react to this, and is there any message for Michael?
Jayesh Salgaocar: Michael right now is with BJP. He has to decide on his future. I think he is a big leader and should stay in BJP. He can be a gamechanger in Bardez. I cannot advise him as it is entirely his decision for his future and his Constituency.
Comment