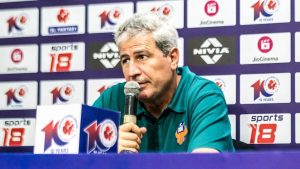 Goemkarponn desk
PANAJI: FC Goa head coach Manolo Marquez expressed his displeasure with his decisions after his team dropped their first point of the season in a goalless draw against Bengaluru FC in the Indian Super League (ISL) at Sree Kanteerava Stadium on Wednesday.
A goalless match between FC Goa and Bengaluru FC is a rarity, as these teams typically provide a goal-scoring spectacle. FC Goa had the upper hand with seven shots on target, but they couldn't breach the net thanks to the outstanding performance of Bengaluru FC's goalkeeper, Gurpreet Singh Sandhu, who made six crucial saves. Despite losing points against the Blues, FC Goa will remain at the top of the league table with 10 points from four matches.
Marquez aims to focus on the positives, noting that his team achieved a clean sheet against a formidable opponent in a challenging match. The Spaniard, however, expressed dissatisfaction with the substitutions, feeling that he needed to be more daring when making such decisions.
"You can see the good part or the bad part. The good part is that we have one more point. We are still unbeaten, a clean sheet. In the bad part, I think that we need to have self-criticism, especially myself because I think that I was not braver with the substitutions. Because I was thinking, if you put some offensive players in, you can score but maybe the young players (don't come) with a lot of experience. They are dangerous in attack and are good at counterattacks, even with just a long ball from Gurpreet. In the end, I chose not to make substitutions, resulting in a 0-0 draw. We earned another point and now shift our focus to the next game," he stated in the post-match press conference.
Similar to the previous matches, full-back Jay Gupta showed his brilliance down the left flank. He made some good runs and quick strikes and was also good at cutting down the opponent's attack. While praising his young star, Jay Gupta, Marquez mentioned there are many more things for him to learn and lots of things to improve on.
"In my opinion, we need to not tell those (good) things to Jay because he's a player who is learning a lot of things. He has very good qualities. Physically and technically, he's a very good player, but still, tactically, he needs to improve a lot. It's true that every action for the people is very nice, but he needs to improve. We are happy with him. But I think that this guy needs more calm," the Spaniard explained.
The Gaurs will next face Chennaiyin FC on November 5 at the Jawaharlal Nehru Stadium in Chennai.
Comment