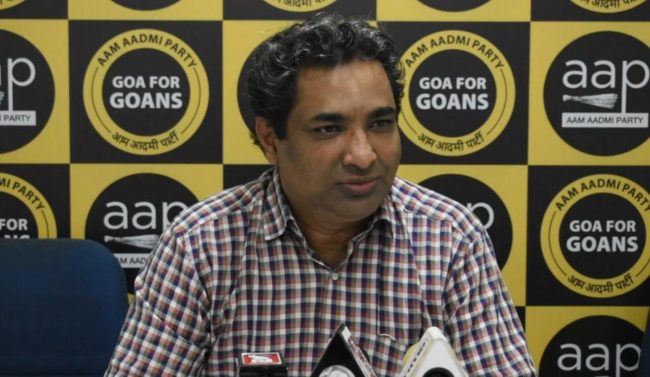 Goemkarponn Desk
Panaji: Aam Aadmi Party today accused the government of total failure to deal with the second wave of Covid infection which is rising every day even as the government slumbers leaving it to the valiant front line covid workers to provide relief to suffering Goans.
In a letter addressed to the Chief Minister Dr Pramod Sawant, AAP Goa Convener Rahul Mhambre pointed out that Goa recorded the highest number of Covid cases in a day on 16th April when 1000 cases were reported and further pointed out that Goa's positive rate of 28 per cent is the highest in the country.
He lamented that despite having sufficient time the government has failed to create additional covid facilities in the State due to which there are no beds in the hospitals or ICU facilities available and demanded that additional facilities be created immediately.
Rahul pointed out that AAP has been advocating 5Ts meaning testing, tracing, tracking, treatment and team work to fight the virus but regretted that the government has totally failed in increasing testing facilities and on tracing the positive cases.
He also ridiculed the new "BJP Utsav" adopted by the government in Goa which had earlier taken the stance of "bhiupachi garaz na" and said using the vaccine drive which is funded by the tax payers money for election campaigning is totally disgraceful.
"Please keep politics aside and involve everyone including NGOs, village committees and even religious institutions to ensure that the vaccination drive is successful," he said while pointing out that lives of Goans is precious and cannot be taken for granted.
Rahul urged the chief minister to take up five measures on priority basis and these include focusing on the 5Ts, increasing testing and additional facilities to isolate covid positive patients.
Rahul lamented the government's eagerness to promote business ventures and pointed out that there are no restrictions on entertainment and gaming venues and demanded that immediate measures be taken to avoid crowds gathering here.
While demanding that the age limit for vaccination be reduced to 18 years, he also asked the chief minister to demand additional stockpile of vaccines for Goa and to ensure that vaccination drive reaches every door step of Goenkar.
He also suggested that the chief minister taking the tourism industry into confidence work out appropriate restrictions on entry of tourists in Goa and also come up with a policy for negative Covid certificate for those entering Goa at least from the States which have high number of cases.
Rahul suggested that Goa take the lead and set an example for others by achieving cent per cent vaccination by using all possible means including the "Tika Utsav".
Comment