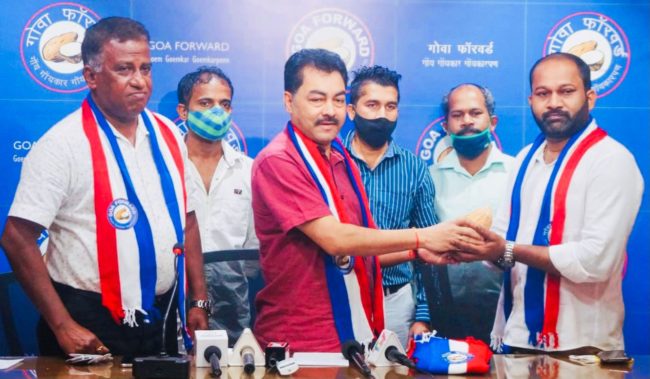 Goemakrponn desk
PANAJI: Kiran Kandolkar, working President of Goa Forward Party, has demanded that the BJP government increase the financial assistance under Grih Aadhar from Rs 1500 to Rs 3000 as inflation is high and also cut the petrol price.
Kandolkar inducted Social workers from Mapusa Pravin Asolkar, Yogesh Asolkar, Sunny Bugde, Gaurish Subedar, and Goa Forward said youths are also suffering in Goa due to unemployment.
GFP Joint Secretary John Nazareth and others were present on occasion.
"Though in 2012 there was Congress government at Center, then Chief Minister Manohar Parrikar capped the petrol price at Rs 60, and he started Griha Adhar scheme of Rs 1000 per month to give relief to women to manage the financial burden of home. Further, his successor Laxmikant Parsekar increased this financial assistance to Rs 1500. We demand that if BJP really respects Manohar Parrikar, they should hike the Griha Aadhar from Rs. 1500 to 3000. This will help common people." Kandolkar said.
"Even petrol rates should come down. Taxi owners, youths and the working class could get relief from this. If Parrikar can do without having a government at Center, then why does Pramod Sawant fail to do it when he has BJP govt at Center." Kandolkar questioned.
Kandolkar also demanded that contractual staff working in government departments should be made permanent. "New promises of jobs by BJP is a farce. They are trying to garner revenue through selling forms for jobs. Chief Minister Sawant should declare how much collection has been made by selling these forms." He said.
While welcoming Asolkar, GFP leader Kiran Kandolkar said that the former has worked towards the betterment of people and has given justice to vendors from Mapusa.
Asolkar also said he wanted to join Goa Forward as it is a regional party that can understand the local problems and bring solutions.
Comment