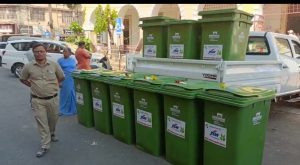 Goemkarponn desk
VASCO: Jindal South West (JSW ), a coal handling company at the Mormugao Port Authority, on Wednesday offered around 100 waste bins to the Mormugao Municipal Council under CSR, which were recieved by the MMC Chairperson Leo Rodrigues in the presence of Vasco MLA Krishna Salkar and other Municipal councillors
Speaking to the media, Vasco MLA Krishna Salkar said that the bins were provided as a part of Swaccha Bharat Abhiyan.
"Swaccha Bharat Abhiyan, an initiative by PM Narendra Modi has been very instrumental in tackling the garbage menace, and results are showing up in Goa. Many people do not offer garbage to the person coming door to door but instead dump it in the open on roadsides which encourages others to do the same, and we finally have a dark spot formed, which is an eye sore and causes health dangers. The people must offer the garbage in a segregated manner and support door-to-door garbage collection instead of dumping garbage on roadsides. Cleanliness starts from us, and this move by the JSW to offer many waste bins will help, and i have asked them to give us a perfect project and they have asked us for a proposal which they will take up for the Vasco city" said Salkar
MMC Chairperson Leo Rodrigues said that MMC would soon also get vehicles, JCB and night soil tankers under the 15th Finance
"We are thankful to the JSW for giving us the dust bins, and they will give us more. We appeal to the people to give us segregated garbage across all 25 wards to help tackle the garbage menace. We are also getting JCB Porcelain, Night soil Tankers and other vehicles under 15th Finance to tackle the garbage menace. We will also get a new hearse van, and things will improve at the municipal level," said Rodrigues.
MMC Vice Chairperson Amay Chopdekar said that the bins would be handy in tackling the garbage issue
"We will use these dustbins for the daily garbage collection since we faced a tremendous shortage of bins, some of which were damaged while some had no wheels. We have also seen that many temples are celebrating the Vardhapan Diwas, where Food is served, and we will also place these bins at such times outside the temples or places where functions are held so that food waste is collected systematically," said Chopdekar.
Comment