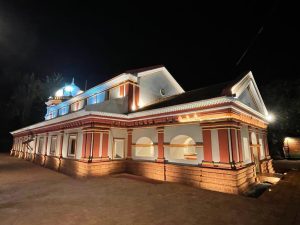 Goemkarponn Desk
NARVEM: Chief Minister Pramod Sawant today said that 'Kaavi' art form of wall decoration is being executed to revive the art at Saptakoteshwar Temple.
"The renovation of the temple is done under Goa Archives and Archeology department. During the renovation the 'Kaavi' art form of wall decoration is being executed, to revive the art," said CM Sawant
He further said that he was honored to be part of a historic occasion in Goa, the dedication of the renovated Shree Saptakoteshwar Devasthan, Narve, Bicholim to people.
"The temple will be dedicated to the people after performance of due religious rituals and in the presence of descendants of Chhatrapati Shivaji Maharaj," he added
He said that Shri Saptakoteshwar is the 'Raj Daivat' of Goa and the history of temple, originally situated at Naroa, Diwar, Tiswadi, goes back to Kadamba Dynasty rule.
"It was desecrated by Bahamani rulers, rebuilt during Vijayanagara rule. It was again destructed by Portuguese rule in 1540," he added
Sawant said that fearing the destruction, the temple was shifted to Narve, Bicholim, at present location.
"The Present temple was built by Chhatrapati Shivaji Maharaj in 1668. His successful campaigns put a check on Portuguese brutalities and religious conversions in Goa," he said
Maharashtra Dy CM Devendra Fadnavis tweeted, "After an attempt to erase India's glorious history in Portuguese and Bahamani regime, the temple which was rebuilt by our ideal Chhatrapati Shivaji Maharaj in 1668, the Shri Saptakoteshwar temple in Goa was reopened for darshan today, from 11 February."
He thanked Goa's young and energetic Chief Minister, "Dr I thank Pramod Sawant from the bottom of my heart! I am thrilled that the restoration work was completed under the guidance of Mumbai architect Rahul Chemburkar. This is a very glorious moment to preserve our glory."
He said Shri Saptkoteshwar temple, the 'Raj deity' of Goa is being inaugurated today and that too by the descendants of Chhatrapati Shivaji Maharaj.
"This is a rare opportunity. I wish the people of Maharashtra, Goa and all over the country" he added.
Maharashtra Chief Minister Eknath Shinde said Portuguese tried to erase the history of this temple destructively. Even before that, in 1355, this temple was destroyed by the Bahmani rulers. Chhatrapati Shivaji Maharaj rebuilt the temple in 1668.
"After 350 years i.e. in the year 2018, the restoration of this shrine has been completed. Vastu Consultant of Vastu Vidhan Projects in Mumbai Shri. This temple was restored under the guidance of Rahul Chemburkar," said CM Shinde
Comment