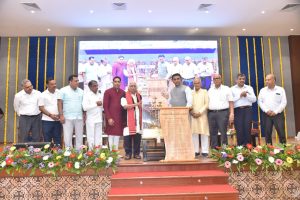 Goemkarponn desk
PANAJI: Chief Minister Dr Pramod Sawant presented the esteemed Gomant Vibhushan Award to two distinguished artists during the celebration of Goa Statehood Day. Vinayak Vishnu Khedekar was honoured for his exceptional contributions to the field of Folk Art for the year 2019-20, while Pt. Prabhakar Janardan Karekar was recognized for his outstanding achievements in Indian Classical Music for 2021-22.
The award ceremony, organized by the Directorate of Art and Culture in collaboration with the Department of Information and Publicity, took place at Durbar Hall, Raj Bhavan, Dona Paula.
In addition to the award presentation, Chief Minister Sawant inaugurated a photo exhibition and released books that shed light on the remarkable lives of Shri Vinayak Vishnu Khedekar and Pt. Prabhakar Janardan Karekar. The event also featured insightful documentaries showcasing the extraordinary journeys of both awardees.
Speaking at the ceremony, Chief Minister Dr. Pramod Sawant emphasized the importance of nurturing the new generation's talents and fostering progress in all fields. He stated, "Recognizing and celebrating the art and accomplishments of individuals is our objective in presenting the Gomant Vibhushan Award. Goa offers a wealth of educational and cultural opportunities, which every young person should seize to make our State proud. The government will provide full support in developing our State, its culture, traditions, and individuals."
Shri Govind Gaude, Minister for Art and Culture, remarked, "Goa is the cultural capital of India, and it is our duty to preserve our rich heritage and pass it on to the younger generation." He further emphasized the transformative power of Music, stating, "Music has the ability to alleviate tensions and give meaning to life. Our youth should honour their gurus and repay them by achieving personal growth and success."
Both awardees, Shri Vinayak Vishnu Khedekar and Pt. Prabhakar Janardan Karekar expressed their gratitude and shared their sentiments on receiving this prestigious recognition.
The citation for the Gomant Vibhushan Award to Shri Vinayak Vishnu Khedekar was presented by Dr Ajay Vaidya and to Pt. Prabhakar Janardan Karekar by Dr. Pandurang Phaldesai.
Mauvin Godhino, Transport Minister; Subhash Shirodkar, Minister for Water Resources Department; Nilkanth Harlankar, Fisheries Minister; Shri Digamber Kamat, MLA, Margao; Puneet Kumar Goel, IAS, Chief Secretary; Dipak Bandekar, Director of the Department of Information and Publicity; and Shri Sagun Velip, Director of the Directorate of Art & Culture were also present.
The function was hosted by Ms Siddhi Upadhye, and Menino D'Souza, IAS, Secretary for Art and Culture, extended a warm welcome to all the distinguished guests. Shri Subhash Chandra, IAS, Secretary for Information and Publicity, delivered the vote of thanks.
Comment