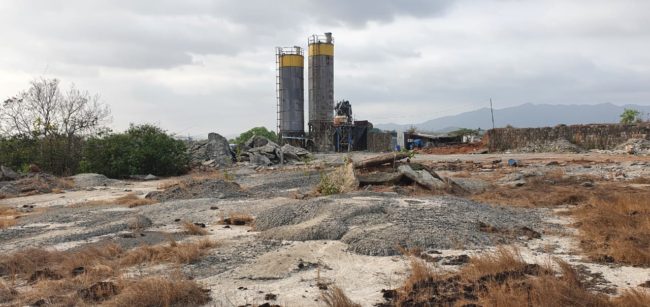 Goemkarponn desk
Canacona: The Kulty plateau which is divine to the diverse people living in Canacona taluka is in an vandalized state as the contractor who had erected infrastructure to manufacture concrete cement and hot mix bitumen together with the housing blocks for the labourers have been left unremoved from the place; not only that, the presence of scrap items scattered all along the place makes the otherwise eco sensitive plateau look like a place from war zone.
Normally the government has established different departments to control individual and industries from polluting the environment but here is a classic example of how mighty and powerful industrialists trample the law under their feet locals from here lament.
When the contractor who was alloted the work to construct the 7.74km Char Rasta-Mashem link road in 2015, he started to create infrastructure to manufacture Ready Mix Concrete and Hot Mix Bitumen, the locals objected but since the contractor had all the right connections at the Delhi level the protest fizzled out and for four years from 2015 to 2019 the contractor blatantly violated the norms laid down by the Goa State Pollution Control Board allege locals from here.
After the completion of the link road in 2019 locals here felt that they now will breath easy.
The pollution caused by running these plants created the otherwise live plateau into a dead plateau lamented Pradeep Mokhardkar.
Post 2015 the Indian Bull Frog who used to come in lakhs for breeding have disappeared as the patches of water holes are covered with soil or hardened cement slurry informed Mokhardkar.
The contractor told us that he has signed a contract with the local Comindade to use the Kulty land for a short term, now its 6 years complete and still the machinery and other material is lying on the plateau, is any one concerned? questioned Diogo Da' Silva an activist from the area.
Together with the locals on the fringe of this vast plateau all sort of wild animals used to live here, now its difficult to sight them, I sincerely feel for these voiceless creatures, it's time we stop running after destroying the habitats of the animals, the West has realised it late, now the East is copying the West by blindly following them, otherwise a day will come when this world of ours will become a dead planet, Da' Silva opinionated.
Comment