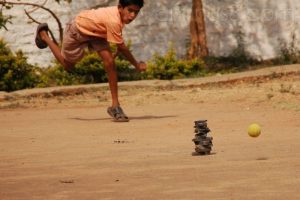 Goemkarponn desk
PANAJI: Sports like Lagori and Gatka have been traditionally played in the bylanes of villages and small towns or in fairs and are fairly popular.
These sports will now get a far bigger platform as they are set to make their national debut as "demonstration sports" in the 37th National Games being played across Goa from October 26-November 9, 2023. The prestigious event, which has attracted over 7000 sportspersons from across all states and Union Territories have also included new sports like Beach Football, Roll Ball, Golf, Sepak takraw, Squay Martial Arts, Kaliyapattu and Pencak Silat as medal categories as part of the government's endeavour to give fillip to traditional Indian sports. For the uninitiated, Lagori or Seven Stones is an outdoor game popular among the youth across the country. It is known by different names: 'Pitthu' in Haryana and northern Rajasthan, 'Satolia' in Gujarat, Yedu Penkulata in Andhra Pradesh, 'Ezhu Kallu' in Tamil Nadu and 'Eri Panthu' in Kerala. Played between two teams, this game requires a tennis ball and a set of seven stones, which are assembled into a small tower.
The game involves one team breaking down the tower and then rebuilding it, while the opponent is tries to stop them by hitting the players with the ball. Gatka, on the other, is a stick fighting sport that originated in Punjab and is already a part of the Khelo India Youth Games.
Explaining the reasoning behind the introduction of these sports in the National Games, IOA Executive Council Member Amitabh Sharma said, "The increase in the number of games is mainly to provide a platform to the players. Some indigenous games and traditional games which are associated with regions across India have been included in it.
"We have included Lagori and Gatka as demo games to create awareness about these games among the people," he added. The demo game has prizes for winning teams but its medals will not be added to the states' medal tally.
Goa Sports Minister Govind Gaude had also insisted on including Lagori as a medal or demonstration sport as it is extremely popular in the state.
Comment