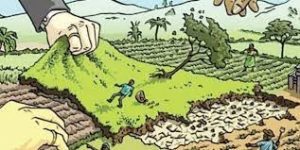 Goemkarponn desk
PANAJI: The Special Investigating Team (SIT) has requested the government to appoint a Special Public Prosecutor for the multi-crore land-grabbing cases.
Justice VK Jadhav Commission of Inquiry today held a hearing into the complaint filed against MLA Jit Arolkar by Adv Aires Rodrigues. The MLA has sought time to file an affidavit while the complainant has demanded that Jit be questioned.
After hearing final arguments on Monday, the Court reserved the judgement.
Adv. On 4th July last year, Aires Rodrigues filed a complaint on behalf of Rawloo Khalap with the Special Investigation Team at Crime Branch, giving details of the land grabbing by the Mandrem MLA. Jit Arolkar, in March last year, was elected on an MGP ticket and is now supporting the ruling government, having been appointed as Chairman of the Goa Housing Board.
Adv. Rodrigues, in his complaint, stated that Jit Arolkar grabbed the land and created over 200 plots in the property while illegally and fraudulently executing sale deeds with third parties and selling the entire property in connivance with Pernem Revenue officials.
Adv. Rodrigues, in his complaint, further alleged that Jit Arolkar, in gross violation of law with political patronage and funds allegedly generated through land scams, had also funded and constructed tar roads illegally connecting to the village road and electricity poles were installed unlawfully. In contrast, no action had been taken by the Electricity department and the PWD.
Adv. Rodrigues, in his complaint, further drew the attention of the Crime Branch that Jit Arolkar had also reportedly illegally created several small plots in the adjacent property belonging to an elderly widow Shetye and, in defiance of law, had similarly illegally and fraudulently sold them to various parties by executing similar devious sale deeds.
Comment