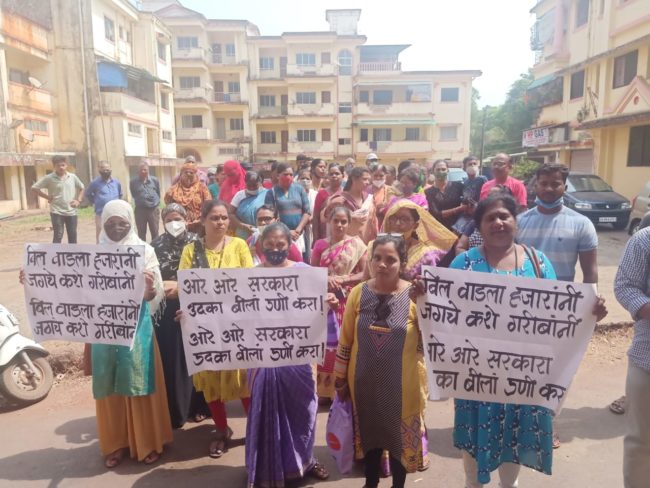 Goemkarponn desk
SANVORDEM: Locals of Tony Nagar, Sanvordem, marched to PWD department (water supply) section Curchorem complaining about exorbitant water bills.
Locals of Sanvordem recently took procession against the exorbitant water bills to several households.
Sarvesh Sawant, a local, said that they had given an application to the PWD department a few days before regarding excessive water bills and quick rectification.
"But that did not happen. The due date is the 6th of April, and still, the department has not done anything about it," he said.
Sawant further said that people cannot afford such excessive bills because most families are economically poor in Tony Nagar, who mostly earn on a daily basis and also due to the delay in issuing the bill, the water bill received by the people is very high.
Three months' bills have made the situation worse for the common man.
Local woman Sheila Naik said that still, they are facing the post effects of the pandemic period where people lost jobs, "still, we going from the economic crisis, we cannot pay such high excessive bill."
She demanded that the department should issue the bill every month, which help to less the financial burden.
Technical engineer Shailesh Usagaokar said there is no issue regarding the water bills.
He added, "in our Curchorem water supply section we cover Dharbandora, Sanvordem and Curchorem around 14,000 connections and in that, 40% bill from this area got 0% of the bill."
When contacted the PWD minister Nilesh Cabral, he said he just got ministry and wants to study this matter first. He further said, "We should keep in mind that scientifically, a maximum of 150-litre water is enough for one person, and 150 litres should be provided to the people."
He said that the scheme that announced 16,000-litre water-free is right, and about the bill which people are raising.
Comment