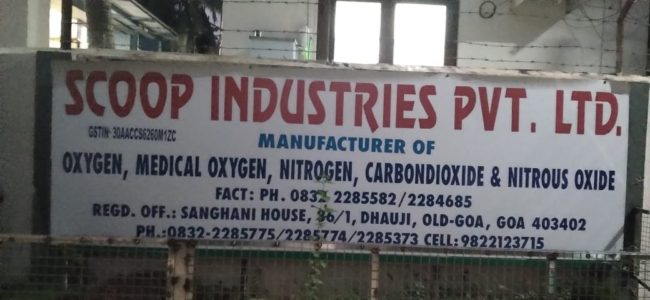 SURAJ NANDREKAR/ Goemkarponn
PANAJI:
By now, after the Goemkarponn exposes, we all know how the M/s SCOOP was born in a sin due to largesse of Health Minister Vishwajit Rane.
Scoop has been in the eye of the storm due to the shortage of Oxygen and his incapability to supply the requisite quantity, which has led to hundreds of COVID19 patients due to shortage.
Now, while his incapability at work was known to everyone but here we have an evidence where character and intentions of the company is also questionable.
Due to the shortage of supply, a lady made an SOS call to the M/s Scoop personnel (we don't know who. But the lady, who does not want to be named, says it was the number of the owner Sanjeev Naik), who misbehaves with the lady even using slang words and threatening to put her behind bars and slap her.
Yes, Sounds absurd though, the lady in the phone call (audio copy is in possession of Goemkarponn) to the owner (as she said) says there is shortage of Oxygen in ward 151 of GMC.
The Scoop personnel asks her where she was and the lady replies in Chandor and she is the volunteer of patient and called after the patient's sister told here about shortage of Oxygen in ward.
This is when the Scoop personnel takes off and threatens to slap here, put here behind bars, using cuss words.
He also says if one person is put inside jail all the voices criticising him will die down.
He also used the word madarchod.. which is a slang in English and a dirty word because it's a discrimination towards someone to involve with to hurt his feelings.
"We have to do this now. If one person is put inside jail all will fall in line," the Scoop personnel says in the audio, speaking in Konkani.
Not only the lady, the Scoop personnel also says he would put the sister of the patient also behind bars for spreading lies.
When Goemkarponn contacted Sanjeev Naik, owner of M/s Scoop Industries Pvt Ltd, to confirm whether it is his voice he replied saying, "No one of my staff picked it up. I will look into the matter immediately."
Excerpts of the conversation
Lady: Hello
Scoop: hello..who are you speaking?
Lady: Me Alisha speaking
Scoop: Alisha, who? doctor?…
Lady:  No..no, I am patient's volunteer. There is a message viral that there is no Oxygen in ward 151 that for more than half an hour.
Scoop: Where are you?
Lady: I am in Chandor.
Scoop: Chandorkarache baayeche gho na ghara. Tu chandor aasa ani aami  hospitalant aasa aani tu ulayta, kaanar martalo yeun… peda poot… aami hanga aasa…haanv jana tu ward sister mhunun. Nonsense..tumi phone karta, kitya kite viral zaala mhunun..kaanar martalo thany yeun, parat phone karit zaalyar.
(using slang he say "you are in Chandor and we are in hospital. I will come and slap you. I thought you were ward sister. Nonsense, you make anything viral. I will come there and slap you if you call again")   
Lady: Saarke aasa te sangta (I am telling you what is truth)
Scoop: Kon sangta viral zaala mhunun.. tuzer kaanar udaytalo ani police dhadun bhitar ghaltalo dharun. Tumi itle ye karta, fakana karta aamchi.
(who is spreading lies? I will slap you on your ears. I will send police and get you jailed. You all are making fun of us?)
Lady: Check kar nu ward 151 (Why don't you check in ward 151?)
Scoop: aami thanych aasa ward 151, thany liquid tank laayli aasa, sagle Kaden oxygen aasa..tuze kaanar martalo yeun aan aanik haadun bhitar udaytalo. Tumi viral biral fakana karunk naka tumi. Fakana koru naka tuka aadich sangta ho number save aasa..tu mhaka bare vadkhana ..tuka haadun bhitar ghaltalo bhitar somtech..ektyak ghatlyar puro tumi sagli jaagyar yetali. Kityak kite viral karta..rastaad padla tumi. Aaan…maeerd..rastad padla gho..tujho number aaha..tuka aatach haadun bhitar ghaltolo..kityaay kiten viral koru naka.
(We are in ward 151, we have installed a liquid tank, there is Oxygen everywhere, I will slap you and put you inside jail. Don't joke with me, I have your number saved, you don't know me. I will put you in jail and once one person is inside all will fall in line. Don't spread lies)   
Lady: Aaami Viral koru na..tya patientachya bhaiyneen message ghatlya.
(We have not made anything viral, patient's sister has sent message)
Scoop: Bhaiyni biyni laagana..tu mhaka sangu naka. (you don't ell me about sister and all)
Lady: Bhayni Kaden aatach ulayla haanv..tene sangla aajun oxtgen naa
(I spoke to sister just now, she said there is no Oxygen)
Scoop: Thanysar aami ube aasa..dhanvta sagle jaan palovpak..tu kityay kite viral karta..foting ulayta.
(We are standing there, running everywhere, you are telling lies)
Lady: Haanv sangta tuka..haven kaanych viral koru naa. Tejya bhaynin post kela
(I am telling you again..I have not made anything viral, patient's sister has messaged)
Scoop: Magir tuven kityaek phone kelo..? bhaynin phone kela…tekaay haadun bhitar ghaltolo..tumi aata chad zaale tumka karchech paddle yeh..ghalchich padli kon kon fakana karta paday tenka
(Why did you call then? I will put the sister of patient also behind bars. Now it is too much, we have to do something now. W ehave to put all those cracking jokes in jail)
Lady: Fakana karpak mare aamchekaden time na..kadle nu?
(We do not have time to crack jokes or make fun)
Scoop: Tumi rastaad padlya..aami hanga raat dis, ratche baara paryant nhidana…madarchod..
(You guys have fallen on roads…we are working day and night. We do not sleep till 12 am…madarchod)
Comment