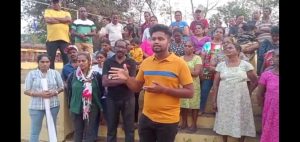 Goemkarponn Desk
PONDA: The locals at Mapa in Panchawadi Village Panchayat strongly opposed the proposed road widening in their Village.
The Villagers said that neither they were taken into confidence nor their views are considered.
The Locals were united and gathered at Mapa Panchawadi. They said recently some surveyors had started conducting survey for road widening, however they started conducting survey inside six to seven meters of the compound wall following which they learnt about proposed road widening from them. The locals said they don't know how much land government want for road widening as those coming for survey are not giving proper information…
The Villagers alleged that government had earlier proposed jetties in their village and fear that road widening may be for Coal handling and making Coal hub for which the efforts are made to widen the road which they will not allow to happen
The villagers said presently smooth traffic on road and there is no traffic congestion and questioned proposed road widening through their property. *They only verbally learnt from sources that road is going to widen by 15 meter to 20 meter wide and some says even it will be 40 meters wide but no body know exact details about how much it is going to extend.
The Locals said in October they had taken Gramsabha resolution few month ago but it appears it did not reached to concerned authorities. The locals said Panchayat appears to be not supporting to locals opposing road. We don't know had proposed road.
Comment