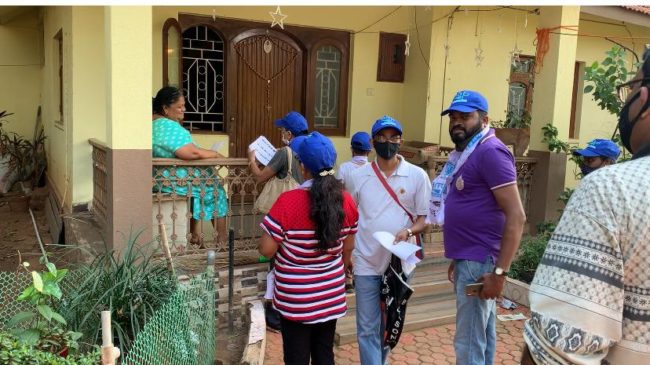 Gaurang Prabhu Malkarnekar
NAVELIM:  AAP's Matilda D'Silva alongwith her enthusiastic supporters seems to gaining the ground with every passing day as the March 20 approaches, the day for Zilla Parishad bypoll.
Matilda has made her priorities quite clear while canvassing for her candidature. Her assurances are simple yet the most important things in life for the citizens. She wants her constituency to be developed and at the same time also promises to protect the environment.
The Aam Aadmi Party candidate from Navelim is braving the hot sun with her supporters during the door to door campaigning and sensitising the people as to how the Delhi CM Arvind Kejriwal has been able to give clean governance to the people.
Goemkarponn spoke to Matilda and her first reaction was Navelim has been left behind compared to other constituencies in terms of development.
"People are not getting basic facilities like drinking water, electricity, no proper roads," she said.
Matilda also raised serious concerns over protection of natural water bodies in and around Navelim.
"Most of the water bodies are in very bad shape they need to be cleaned and have to be maintained. Almost all water bodies are polluted and filed with plastic bottles and waste," she lamented.
She said that if elected her focus will be on improving the conditions of natural water bodies and promoting agriculture.
Further she said that the conditions of anganwadis will also be to improve and provide better facilities for the children as they are the feature.
"We have to give good facilities to them," she said.
She also said many parts of Navelim is not getting proper drinking water and that issue will be her priority.
Comment