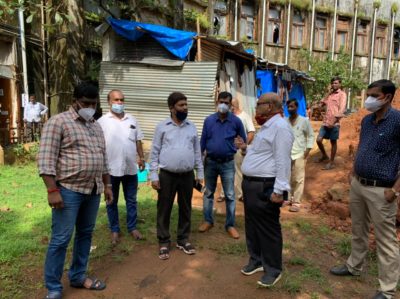 Goemkapronn desk
MARGAO: Leader of Opposition Digambar Kamat said that BJP Government feels that all that happened in India is only after 2014 and has tried to destroy the places of historical importance.
"I am shocked to note that the statue of Dr Ram Manohar Lohia and the Martyrs Memorial is missing from Lohia Maidan. This incident exposes the fake Nationalism of the BJP. I demand that the Chief Minister, Dr Pramod Sawant, immediately take note and ensure that the statue and the Memorial are traced and secured," stated Leader of Opposition Digambar Kamat.
Today, the leader of Opposition and Margao MLA visited the Lohia Maidan after reports of the statue and the Martyrs Memorial laying in abandoned condition appeared in a section of Media.
He summoned Margao Municipal Engineer Diniz D'Mello, Junior Engineer Viraj Bodnekar and instructed them to immediately find out the whereabouts of the missing statue and the martyrs memorial.
"I demand that the statue and the martyrs memorial must be stored at a safe place in a secured manner till the completion of the beautification of Lohia Maidan. The Archaeology Department must ensure that such historical monuments are appropriately preserved. The Government's apathy towards giving respect to all those who contributed to the Freedom Struggle of India and Liberation Movement of Goa stands exposed once again," charged Digambar Kamat.
He said the Goa Government insulted the Freedom Fighters by not inviting them for the 60th Goa Liberation Day Celebrations held on 19th December 2020.
"Our leader Rahul Gandhi exposed the BJP Government at the Centre for destroying the historical traces at Jalianwala Bagh under the guise of beautification. BJP Government has no respect for the Martyrdom of Freedom Fighters. They are only interested in making events of every opportunity to get political mileage. I strongly condemn the actions of the BJP Government of insulting the Freedom Fighters and their families.
I also demand that the beautification work of the Lohia Maidan must be completed immediately, and this historic place must be made available for the people to pay their respect on 19th December 2021, which will coincide with the completion of 60 years of Liberation of Goa," he said.
Comment