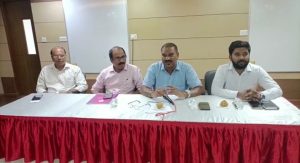 Goemkapronn desk
VASCO: Mormugao Municipal Council on Wednesday became the first Municipal Council in the state to unanimously resolve to support the Government in the fight to prevent water diversion from the Mhadei River to Karnataka.
MMC Chairperson Leo Rodrigues speaking to media, said that MMC will also take awareness activities on Mhadei issue across all schools in the entire MMC jurisdiction comprising 25 wards
"We have full faith in the CM Dr Pramod Sawant, who is heading the BJP Government in Goa, and we are very sure that the Mhadei waters will not be diverted. We also have full faith in the Judiciary, who will understand the concerns of Goans on this diversion. The Mhadei river is our lifeline, and water being diverted will lead to water issues and also kill our flora and Fauna and subsequently cause a lot of issues in our biodiversity and environment as well," said Rodrigues.
Vasco city ward councillor Shami Salkar said that the Mhadei water issue has been prevalent for the last thirty years.
"However, the DPR approval has caused concerns to Goa, and as a council, we have resolved that the Mhadei diversion must not be allowed. We have full faith in the CM, Dr Pramod Sawant, who is taking all the steps required to prevent this diversion by exploring all legal, technical and political options," he said.
Salkar said that we all know the Mhadei is our lifeline and takes care of all our flora, fauna, and animals in the wildlife sanctuary.
"We are confident that the central government and the judiciary will deliver the required justice to Goans," said Salkar.
MMC councillor Sudesh Bhosle said that MMC has decided to carry out a mega awareness camp in schools on the Mhadei issue.
"The MMC Biodiversity committee took the topic to have awareness camps on the issue across all schools in the MMC jurisdiction comprising 25 wards. We have planned to have events like drawing and essay competitions, awareness programs and other school activities. We want to ensure that the issue gets the deserved attention and that the schools, along with their students, are also a part of it," he said.
He said this will help us strengthen the hands of the Government and extend full-fledged support at the most basic grassroot level, including schools, towards our fight against the diversion of water from Mhadei River, which is the lifeline of Goa," said Bhosle.
Comment