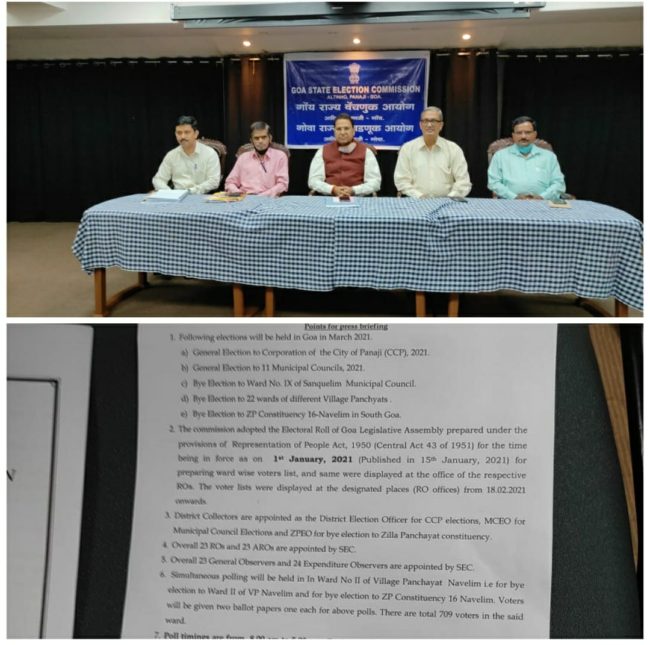 Goemkaponn Desk
PANAJI: The State Election Commission (SEC) today has declared the elections to the municipalities and Corporation of the City of Panaji to be held of March 20.
With the announcement the code of conduct has come into force which has been limited only to the areas going in for elections.
"The elections to 11 municipalities and CCP will be held on March 20 while the counting and announcment of results will take place on March 22," said SEC
The SEC further said that polling will be held from 8am to 5pm on March 20 while 4pm to 8pm slot will be reserved for COVID-19 positive patients.
The SEC has said that nominations will begin from February 25 till March 4, "No nominations to be accepted on Feb 28 being sunday" it said
"Scrutiny will be held on March 5 while withdrawal of candidature to be allowed on March 6" SEC informed
The Election Commission also said that the expenditure limit for CCP candidate is fixed at Rs 2.5 lakh per candidate and for Municipality it is Rs 2 lakh per candidate.
Total 32,041 voters of CCP and 2,50,470 voters of 11 civic bodies will exercise their franchise. Ward no 9 of Sakhali municipality and Navelim ZP constituency will also go for Elections on March 20 along with 11 municipalities, and CCP.
Many petitioners including opposition parties have moved the High Court regarding reservations and delimitation of wards. "Court will decide on reservation," said SEC
Comment