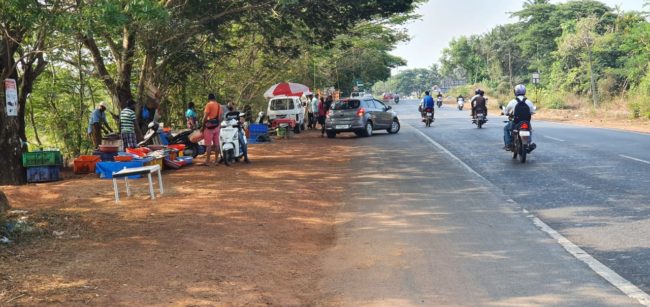 Goemakrponn desk
Canacona:
The world is witnessing new normal after the deadly coronavirus caused an unprecedented pandemic around the world.
The disease produced by the novel coronavirus and its consequences have not only posed a challenge for health authorities worldwide but other changes also has put the administration on added stress.
In a similar case after the pandemic hit Goa in the beginning of last year people avoided visiting closed markets and as such enterprising youth grabbed the opportunity with both their hands and started selling their wares from the busy roadsides.
Due to unprecedented loss of jobs youth are seen selling something or the other, unable to pay the bank instalments even brand new mid segment cars are being put to use to sell whatever that has demand.
If we drive down from Margao towards Canacona one can see such vendors doing brisk business in turn inconveniencing the commuters as well as pedestrians.
The vendors just position their wares on the roadside sometimes even on the shoulders of this road putting everyone in inconvenience commuters allege.
Specific example is of a roadside market that sprung up last year at Shirlim beside NH66.
In the beginning only one lady used to sit with fresh fish, but today one can see vendors selling from fish to livestock beside this busy road.
A few mishaps were also reportedly occurred at this spot as some vehicles suddenly apply breaks or jump the lane informed a regular commuter from Canacona.
Anil Bhagat a senior citizen and a regular commuter on this road informed that this practice has gone unchecked by the authorities and a day will come these unauthorised markets will lead to regular accidents.
There are atleast four vendors selling fish, one selling live stock, one selling Chinese dolls, one selling hammocks and a few selling vegetables and fruits.
Further down south people have put up food carts and stalls selling items to the commuters on this road.
Neither police nor civic authorities it seems have made any effort to put in place the erring vendors who flout all the rules in the book, many complained.
A few years ago a tanker fell exactly where local men had women squat to sell their produce at Gulem, fortunately for them the mishap happened in the night otherwise it would have been catastrophic said Anil Bhagat a local activist from here.
Police and Highway Patrol vehicles regularly patrol the highway but for reasons unknown they turn a blind eye towards this activities, infact they themselves are seen at these temporary shops informed Bhagat.
"For everyone's safety these vendors should be alloted a place away from the road and they should adhere to the rules and regulations" opined Bhagat.
Comment