TMC RULES OUT alliance with any party
Says will contest polls in all 40 constiuencies "New Dawn", TMC a credible alternative: Luizinho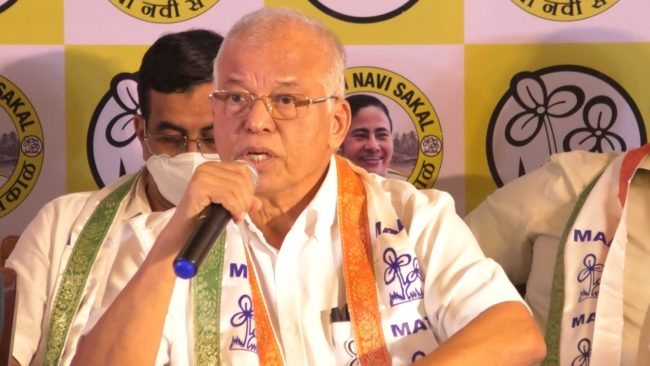 Goemkarponn desk
PANAJI: In a first press conference after joining the Trinamool Congress in Kolkata, former Chief Minister Luzinho Faleiro said he decided to join teh TMC as there was no opposition in the State for the last 10 years. He also ruled out forging alliance with any party for 2022 elections.
"I maintained dignified silence for last four and half years. BJP has destroyed Goa, and there is no Opposition left in Goa for the last 10 years," he said.
However, Luizinho seems to have forgotten that during the last five years, he was one of teh the presidents of the Goa Pradesh Congress Committee and also MLA for four and half years.
Taking a sly dig at his former colleagues, he said, "being in Congress, you do not need enemies."
Further speaking, he also ruled out an alliance with any party in the State and said that TMC will contest all 40 constituencies.
"We are looking at contesting all 40 constituencies," he said.
"New Dawn" is here and Mamta Banerjee's Trinamool Congress is the credible alternative that Goans are looking for.
Mr Luizinho Faleiro stated that the essential spirit of secularism is being threatened by the divisive forces that are controlling India from the Center.
"And the need of the hour is to find a credible, formidable and reliable alternative for people across India to fight for our nation's soul to be preserved," he said.
He also said that, "If there is one beacon of hope in the country today who has successfully defeated the BJP and their dangerous brand of divisive politics, it is Mamata Banerjee. Her political opponents have tried to break her will but she's fought time and again to hand BJP a resounding defeat."
Mr Faleiro expressed that he felt renewed hope and enthusiasm to be able to effectively serve the Goans by joining TMC.
Further, he informed that an overwhelming response from Goans about his joining in the last 24 hours made him feel certain that the future of Goa is indeed bright. "I feel reinvigorated today that there is a new hope for the people of Goa, for our youth, for our women, for our economy, for our environment and for our identity as Goans," said Mr Faleiro.
With the formation of Goa TMC, Mr Faleiro said that a 'New Dawn' is here for the Goans.
He added, "I have always fought for Goa and Goans, to protect our identity, our ethos, and our pride. I will do so one more time by defeating BJP in the 2022 elections. I call upon all my fellow Goans to come and join forces with us so that we can together usher in a new dawn for all."
Mr Falerio said, "And with this new dawn, I am confident that the destiny of all of India is going to be written right here in our Goa."
Several distinguished Goans have already expressed their interest to join Goa TMC
family and this trend will only grow in the days to come, said Mr Faleiro.
Over the coming days, the leaders of the Goa TMC will travel across the State, to every nook and corner to take the message of 'New Dawn' to masses. The leaders will also be hearing from every Goan about their aspirations for the State.
Goa TMC leaders appealed to the youth, the women, and the great sons and daughters of Goa to come forth and join hands with them to preserve Goa's rich ethos, identity, and cosmopolitan culture.
Comment