Several projects in Goa demonstrate
*MVR is a habitual offender"…..
– Curti-Khandekar highway pipeline collapse leading to Tiswadi water crisis.
– Gaundalim Bridge with major flaws and repeated closures for repairs.
– Miramar-Donapaula concrete road disaster.
– Donapaula jetty collapse.
– Kala Academy jetty collapse.
– Flyover at Chimbel on Old Goa bypass abandoned after foundation problems.
– South Goa collectorate building abandoned.
– Dabolim grade separator delayed and substandard work.
– Cavellosim-Assolna bridge delayed
– Loutolim-Cortalim link road wall defects.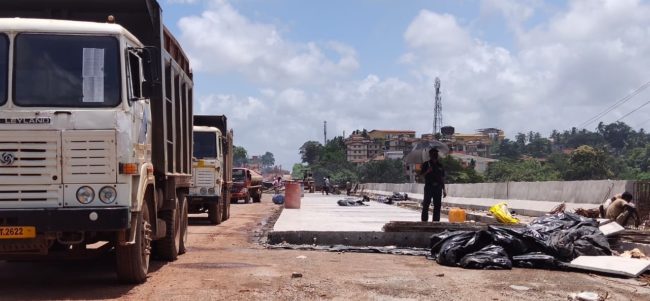 Goemkarponn desk
PANAJI: The National Highways Authority of India (NHAI) has said that it will crackdown on developers that fail to ensure road projects are developed on time and meet quality standards.
The regulator has already debarred three contractors after lapses were found in the quality of their work in existing and ongoing projects.
The authority declared Gayatri Projects a "non-performer" after it found defects in the ongoing four-lanning of the road from Sultanpur to Varanasi in Uttar Pradesh, NHAI said in a statement on June 10.
MVR dictates terms in Goa…

However, in Goa locals have been raising questions against the bad quality of work and supervision over National Highway works, especially on NH66, but their appeals fell on deaf ears.
MVR, the contractor, is notorious for its shoddy work in Goa which has been sub-standard to the point of collapse, or have been delayed for years, and in some cases simply abandoned after creating major issues.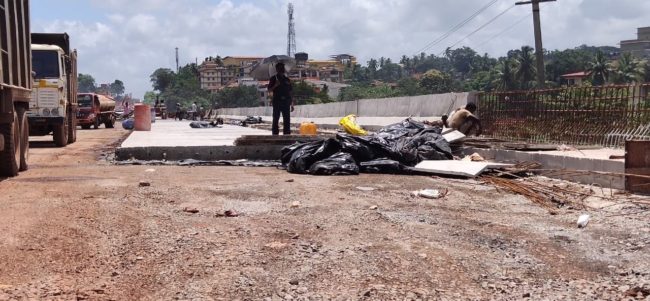 More importantly, MVR does not have the technical background or expertise to handle such large projects and uses sub-contractors to finish smaller portions of work while enjoying the profit margin of the entire contract.
Despite this, the State government continues to give contracts to MVR as he is related to a top BJP politician.
It is high time works of MVR be stopped immediately and investigated for quality by private consultants, and also that engineers of PWD who have abdicated their responsibility of supervision be held liable and suspended for dereliction of duty.

The BJP, which came into power riding on the back of an anti-corruption wave against the Congress, appears to have perfected the art of corruption and doesn't seem likely to stop even if the lives of Goans are lost in the process.
The ongoing work from Patradevi to Bambolim, by MVR, has become unmotorable and a risk to the lives of the commuters.
During monsoons, the issue becomes more dangerous due to potholes and mud washing onto old roads.
Sub-standard work…
For the second time in the last one year, the concrete flyover over Karaswada junction has developed potholes, which has become dangerous to motorists.
Activist Damodar Divkar says the bridge has been washed at the beginning of this Monsoon developing several cracks and concrete has vanished at most of the places here and inside steel used for concrete, is visible due to inferior quality works.
"It's shocking to see the cracks and scaling of the concrete surface layer on this newly built bridge," he stated adding this is due to usage of high quantity of fly ash, low-quality materials, and improper curing resulted in all these problems.
Not just this, the flyover opposite 3TTR, at Bambolim, has also developed huge cracks and the PWD inspection has revealed sub-standard work.
Similarly, the road between Patradevi and Dhargal has become a death trap due to the ongoing four-lane work and yet the authorities appear least bothered to do anything to arrest the increasing number of accidents.
The work of NH- widening commenced in 2018 and since then 20 people have lost their lives. In the same year, 51 accidents occurred on this stretch of road, in which 70 suffered major injuries while 11 died. In 2019, 52 accidents occurred of which 41 were injured and seven died.
In 2020, 18 accidents have occurred in which seven were seriously injured, while two died. Most of the injured have suffered permanent disabilities.
NHAI to blacklist contractors…
Earlier this week, NHAI banned Lion Engineering for six months, saying the consultant failed to perform its duties while delivering services and executing provisions made in the contract for the four-lanning of the Barhi-Hazaribagh section in Jharkhand.
The authority also debarred Theme Engineering Services for six months for poor quality work.
NHAI has started a quality-checking drive under which special teams of experts are sent out from its headquarters to inspect all projects. The regulator is currently investigating four developers of projects in Maharashtra, West Bengal and Tamil Nadu that were either delayed or failed to meet quality standards, sources said.
The quality inspections are not only to ensure adherence to standards but also to verify compliance with contractual obligations by contractors and consultants, an official said.
NHAI came out with a strict policy in February to deal with major lapses in structures, providing for fines of up to Rs 10 crore for defaulters, besides debarment of the firm or personnel for up to three years.
Graded penal action will be taken against defaulters, depending on whether the lapses are minor, major incidents or major failures resulting in loss of human lives, it said.
Consultancy firms involved in a project can also be held liable with fines of up to Rs 40 lakh and debarments from NHAI projects for up to two years.
For minor lapses where no casualties are reported, defaulting contractors will have to bear the expenses of carrying out rectification work and pay a penalty of Rs 30 lakh. Additionally, a written warning will be issued to the firm and the personnel involved.
Comment