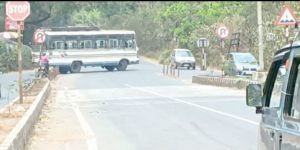 Goemkarponn Desk
PONDA: To save 2 km distance passengerbuses are takinh unauthorised dangerous U turn on NH at Safa Masjid for proceeding towards KTC Bus Stand.
The U turn prohibiting sign board is ignored. It could lead to major accident on Panjim Ponda Belgaum Highway near Safa Majid Ponda. Strangely though Board is displayed traffic police do not take action.
It may recall that it's more than two years now that the National Highways Authority of India closed the Ponda KTC bus stand junction for crossing for the local traffic especially buses and also U-Turn was prohibited after inaugurating four lane Highway strech here upto Khandepar giving a clear route to Ponda-Panjim Belgaum highway to proceed forward without any obstruction.
The Junction was closed as Underpass was not possible as Archaelogical Survey of India did not gave permission as it was coming close to Safa Masjid which is heritage protected site.
After Prohibition of U turn at KTC junction now the buses coming from Ponda were directed to travel longer distance up to GVM circle and taking round about to proceed at KTC Bus Stand to alight and board the passengers but no body follow this rule which is for safety of all vehicles and thus despite junction at Safa Masjid closed, the passengers buses including KTC buses takes U turn at median gap here in dangerous manner despite sign board clearly indicate prohibition of U turn.
This is according to passenger bus drivers after closure of junction they are forced to cover 2 km distance at GVM circle to reach at KTC Bus Stand which earlier was just 100 meter distance when Junction was open before four lane road was constructed. Hence they they takes U turn which saves time, 2 km distance and fuel and also not affordable for fuel to cover additional 2 km distance.
Thus on regular basis, violation of traffic rules is witnessed at the bus stand junction with most of the motorists taking U-Turn which poses risk to the lives of commuters and passengers. The signboards are meant for safety of the commuters and vehicles but here no traffic personnel are seen controlling the traffic or issuing fines for traffic violations.
Comment