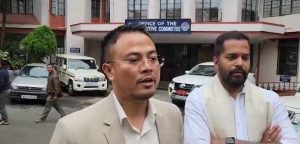 Goemkapronn desk
PANAJI: A delegation of the North Goa Zila Panchayat (NGZP) on Tuesday visited KHADC to familarise with the functioning of the Council.
The delegation which was led by its president, Siddesh Shripad Naik and its Chief Executive Officer (CEO), Ajay Guade held an interaction with the members of the Executive Committee headed by the Chief Executive Member of the Council, Pyniaid Sing Syiem.
While speaking to reporters, Naik said that the basic objective of visiting the council was to study the local governance model of the respective state or districts.
NGZP president said that they are trying to understand the mode of functioning and governance of the council.
He further observed that they would be able to improve their governance by learning new ideas from other States.
According to him, they can even suggest to the government on the improvement which can be to develop their district and constituencies.
"This study visit will greatly help us to improve our governance," NGZP president said.
Meanwhile, the NGZP CEO said that they have a lot to learn from Meghalaya.
According to him, they have witnessed how the tribal people live in the hilly areas and how they are maintaining their cleanliness.
Stating that Goa is known for its sea and sand, Guade said that Meghalaya is known for beautiful waterfalls, dense forest areas and its traditional institutions.
He further said that the style of functioning of the Zila Parishad in Goa is totally different as compared with the Autonomous District Council in Meghalaya.
"We have our own Panchayat Act. But the district council is empowered by the Sixth Schedule of the Constitution," NGZP CEO said.
Meanwhile, KHADC CEM said that they have tried to share about the customary practices and tradition of the Khasi community.
According to him, the delegation from Goa also wanted to have an in-depth understanding about the overall functioning of the council and the traditional institutions.
He also said that they have gained a lot on the functioning of the Zila Panchayat in Goa.
Comment