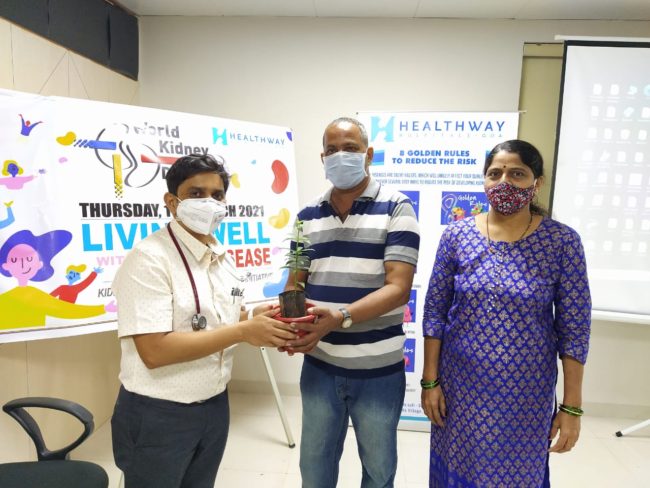 Goemkarponn Desk
Panaji: World Kidney Day observed on March 11th each year is aimed at creating awareness on kidney care and reducing incidences of kidney diseases and related ailments. Every year, the campaign highlights an important facet. This year the focus is on 'Living Well with Kidney Disease.'
To mark the importance of this day, Healthway Hospital, Old Goa, hosted an interactive session between patients suffering from kidney ailments and those who had undergone a successful kidney transplant. Patients along with their families were brought together by the hospital to create healthy conversations on post-transplant operative care, care during dialysis and general well-being of the patient.
Dr Shital Lengade, Consultant Nephrologist at Healthway Hospital explained that patients of dialysis can live a healthy life, while managing their treatments. "Let dialysis be a part of your life and not at the core of your life. Most importantly don't lose hope," he advised patients.
 "Through this session we have stressed on the fact that people with kidney ailments as well as patients of kidney transplant are able to lead a full life. Social support of family is very important through this process for the patient, donor and the family. This awareness program aims to change the attitude of society towards kidney ailments," added Consultant Nephrologist, Dr. Sindhu Arjun who was part of the session.
Speaking on kidney transplant options, explained Dr. Lengade, "Kidney transplant is considered when someone has kidney failure or Stage 5 Chronic kidney disease ( eGFR below 15ml/min). A majority of patients are required to start dialysis treatment before undergoing kidney transplant. For anyone diagnosed with kidney failure, kidney transplant is the best treatment option as it restores near normal health, improves the quality of life and significantly improves survival compared to dialysis. Kidney transplant in women in childbearing age restores their fertility and chances to have successful pregnancies. Meanwhile, children with kidney failure tend to achieve catch up growth and development only after kidney transplant"
The session educated patients as well as donors on kidney care, dialysis care and the transplant process, while resolving uncertainties with regards to the consequences and complications of such a surgery for both patient as well as the donor.
Several donors and kidney transplant receivers shared their experiences with patients that are on dialysis looking to opt for kidney transplant. Young Sarah Harris who recently underwent a kidney transplant said, "I was on dialysis for two and a half years and it was painful to be honest. I finally decided to undergo a transplant. After the transplant it was tough as there are measures to be taken such as being restricted in the house for six months, high levels of hygiene and a strict diet devoid of junk food and fizzy drinks. Through it all, my family's support was very important to me. If you have a chance to do a transplant, please go ahead because it's worth it,".
Sarah's donor was her mother who was a match. Harris stressed on the importance of family support through the transplant process and the role it plays in encouraging both the donor and receiver to stay positive through the journey.
Explaining further on post-operative care, said Dr. Lengade, "After you have the transplant, dialysis is no longer required and one can leaded a relatively healthy and normal life,"
Healthway Hospital, Old Goa's super speciality unit has emerged to become the region's pioneer tertiary level care centre where advanced surgical cases including kidney transplant surgery are carried out routinely.
There are eight golden rules to keep the kidney healthy explained Dr Lengade. "A regular fitness routine, maintaining a proper diet, fluid intake, not smoking, as well as restricting over use of painkillers and other medicines can help in keeping CKD at bay. Make sure to check and control your blood sugar and blood pressure regularly. Hydration and adequate fluid intake is very important. Moreover, get your kidney function checked if you have any 'high risk' factors such as diabetes, hypertension or obesity," explained Dr. Lengade.
Comment