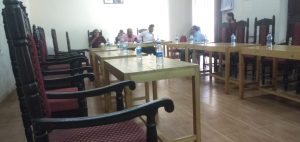 Goemkarponn Desk
PONDA: The no confidence motion notice against PMC Chairperson Ritesh Naik given by Eight out of fifteen Councillors was today fizzled out giving a big Victory to Chairperson Ritesh Naik.
Hoping that something unexpected would happen so many people gathered near PMC but there was pin drop silence in PMC hall.
None of eight Councillors out of fifteen who had signed no confidence motion notice were present for the meeting. Empty Chairs, pin drop silence were greeting the meeting . The locals without taking the name of Ravi Naik said this showed who is the Lion of Ponda.
There were so many Politicians who were calling themselves king makers but no one turned up today near the PMC building.
Earlier the no confidence motion against Ritesh Naik was considered as a big blow to Minister Ravi Naik as Ritesh being Son of Minister Ravi Naik. There was a tense situation in Ponda after no confidence notice. However later one of the councillors Shantaram Colvekar who signed a no confidence motion joined back to Ritesh Naik bringing majority to the ruling group of Chairperson Ritesh Naik.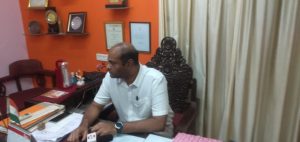 Two days later the MGP Central Committee also held a press briefing and announced that MGP did not play any role in bringing no confidence motion against Ritesh Naik as MGP- BJP is ruling in government.
After this this development meeting was held today to discuss the no confidence motion however none of fifteen Councillors nor the eight Councillors attended the meeting held to decide on the no confidence motion. Empty Chairs of Councilors greeted the Officials and people who had attended the meeting.
Beside Returning official Sitaram Sawal, Ponda MLA and Minister Ravi Naik, PMC chief officer Yogiraj Gosavi and members of Public were present for the meeting. However none of the Councillors attended the meeting which was a pleasant surprise for Ritesh Naik and his father Minister Ravi Naik.
Ritesh Naik said he is committed to development of all wards and also would complete the pending projects and development work in PMC.
The No Confidence Motion notice was served against chairperson Ritesh Naik when just six months were left to end the term of Ponda Municipal Council was being looked at as a big blow to Ponda MLA Minister Ravi Naik.
Comment