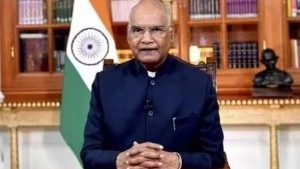 New Delhi India should hold simultaneous parliamentary and state assembly polls, former President and the chairman of a high level committee examining the possibility of holding "one nation, one election", Ram Nath Kovind, said on Monday, urging all political parties to support the idea in national interest.
"If one nation, one poll is implemented, the party which is in power at the Centre will be benefited, be it the BJP (Bharatiya Janata Party), Congress, or any other political party, and there is no discrimination in that," Kovind said at a media briefing at Uttar Pradesh's Rae Bareli. "The public will be most benefited from it, and the amount of revenue generated by saving money from simultaneous elections could be used for the development of the country."
Several committees, including a parliamentary panel, the Niti Aayog and the Election Commission of India, have submitted their reports backing simultaneous polls, the former President said.
From the first elections in Independent India in 1952 until 1967, elections were held simultaneously across the country. But since the Lok Sabha and state assemblies can be dissolved before their tenures end, the state and national elections came to be held at different times after that.
"The government formed a high-level committee and appointed me as its chairman. Members of the committee, together with the public, will give suggestions to the government regarding the re- implementation of this tradition," Kovind said.
The committee led by Kovind will write to political parties, giving them three months to offer their views over holding assembly and national elections simultaneously across the country, HT reported on October 26.
"Every political party has supported it at some point in time. Maybe some are against it, but we are requesting all the parties for their constructive support as it is beneficial to the country," Kovind said. "It is a matter of national interest and it is not aligned with the interests of just one political party."
The panel was set up by the government on September 2, a day after the Centre called a special Parliament session.
The Congress working committee meeting on September 16 rejected the one nation, one election proposal, calling it an "assault" on the Constitution. Several Congress leaders, including Rahul Gandhi, Jairam Ramesh and P Chidambaram, opposed the idea of holding simultaneous polls.
The committee was slated to have eight members, including Kovind; home minster Amit Shah; former Congressman Ghulam Nabi Azad; former chairman of the 15th Finance Commission, NK Singh; former secretary-general of Lok Sabha, Subhash C Kashyap; senior advocate Harish Salve; former chief vigilance commissioner Sanjay Kothari, and Congress Lok Sabha leader Adhir Ranjan Chowdhury. But Chowdhury declined to join the panel, saying that its terms of reference had been prepared in a manner to guarantee its conclusions.
Law minister Arjun Ram Meghwal attended all the meetings of the panel as a special invitee, and law secretary Niten Chandra is the secretary of the committee.
Comment