Delhi CM Kejriwal, Ex-Maha CM Fadnavis in Goa to sound poll bugle
Goemkarponn desk
PANAJI: With the 2022 Goa Legislative Assembly elections just a few months away, Goa's political slugfest has begun with prominent leaders descending in Goa for virtual poll campaigning.
On Monday, Delhi CM Arvind Kejriwal and former Maharashtra CM Devendra Fadnavis are in Goa to kick off their party campaign.
Fadnavis is in Goa for teh first time after being appointed BJP's Goa in-charge by Central leadership, while for Kejriwal, this was the second visit in a couple of months.
A couple of months ago, Kejriwal promised 300 free electricity and arrears waiver for defaulters when he arrived here.
On Monday, too, before arriving, he tweeted about the unemployment in Goa.
"With unemployment at its peak, Goa's youth are not getting jobs. Government jobs are available only to people with money and connections. Coming to Goa to discuss this issue with the People of Goa," he tweeted.
Interestingly, Congress' Goa in charge and former Finance Minister P Chidambaram was also in Goa during the weekend and met. s
several party leaders in South Goa.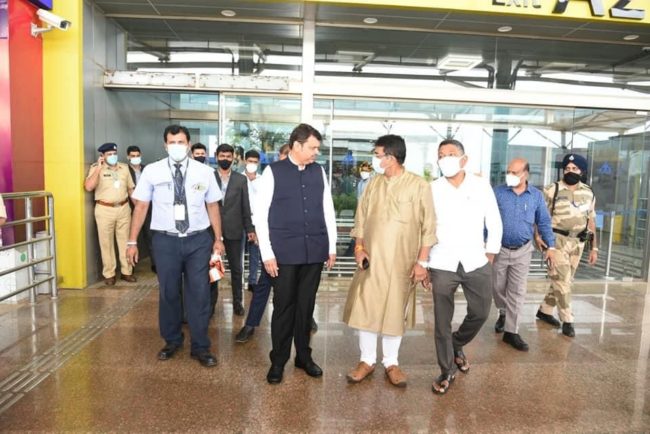 Tickets only after studying all minute aspects: Fadnavis
Decision on alliance to be taken by BJP Parliamentary board, says Fadnavis
Goemkarponn desk
PANAJI: BJP Goa Election in-charge Devendra Fadnavis today said that tickets would be given by the party parliamentary committee only after studying all aspects of each candidate.
Fadnavis also said that BJP will attain an absolute majority in 2022 as people believe in Dr Pramod Sawant.
On Monday, former Maharashtra Chief Minister Devendra Fadnavis arrived in Goa on his first visit to the coastal state after being appointed the Bharatiya Janata Party's Goa in charge of the 2022 assembly polls.
"I do not want to speak anything about tickets and other aspects as it will be taken by the BJP parliamentary committee and the national president. I can only say that tickets will be given only after studying all the aspects of that candidate," said Fadnavis
He further said that he cannot comment on the number of seats BJP will win in the 2022 poll but is sure BJP will attain the absolute majority.
Fadnavis said that after Manohar Parrikar, Dr Pramod Sawant has smoothly taken over and maintained a good track record in Goa. He has done excellent work in Goa.
"There is no doubt that Pramod Sawant has been stellar in his performance; he has done excellent work in Goa. He has unitedly worked with all to such heights in all fields, maybe development or people schemes," he said.
Speaking on the alliance, Fadnavis said that the decision on the alliance will only be taken by the BJP's parliamentary board. He does not have any say in it as he was just sent to look after the election strategies.
"We will contest election in Goa under the leadership of Dr Pramod Sawant," Fadnavis added.
Speaking on Congress, the former BJP Maharashtra CM and Goa Election Incharge said that Congress doesn't have a fixed leadership in the country.
"Congress does not have fixed leadership, and you need a proper leader to run a state and nation. Now and the future is only with BJP," he said.
Fadnavis also questioned if Congress was a good party, why would their MLA come and join BJP?
Speaking on Covid crises, Fadnavas has perfectly managed the covid crises in the state in a perfect manner.
Meanwhile, Fadnavis is also expected to meet the core members of the state BJP executive committee during his two-day visit while also meeting with the members of the BJP legislature party.
Comment