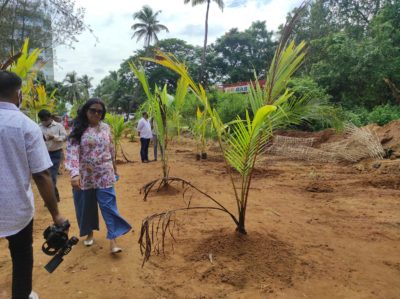 Goemkarponn desk
PANAJI: Disturbed over the news of the destruction of trees along Caranzalem- Miramar road, Minister for Revenue Jennifer Monserrate took up plantation drive along the stretch.
The Minister, who is also a local MLA, said that no permission was granted of any nature to undertake such illegal activities.
A 5-star hotel located at Caranzalem had allegedly violated norms by making a pathway by cutting trees to make way for hotel guests to the beach.
"We don't know who made it wider. We came to know of it yesterday and came here at 8 am to plant the trees," said Jennifer
She further said that they have to find out who did the widening and take action.
"I have issued an order to block vehicular access to this area immediately and have started the process of planting trees. I will ensure that the area is restored to its original condition and that such incidents are not repeated in future," she added
Meanwhile, CCP Mayor Rohit Monserrate said that no one has taken permission from CCP, Panchayat, or any government department for the widening.
In a complaint filed at the Panaji police station, Former CCP Mayor Tony Rodrigues brought the ongoing road construction work from the main road towards the beach to the authorities.
"The said road construction is in violation with the CRZ norms and is being carried out without necessary permissions from competent authorities, he alleged," said Rodrigues
Tony also said that almost 20-30 fully grown trees have been cut without forest dept permission; he further alleged and demanded immediate criminal action against the culprits.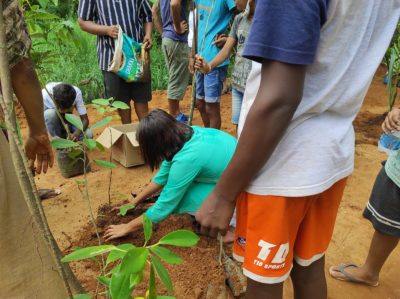 Plantation drive a mockery;
why no FIR? AAP's Valmiki Naik
Goemkarponn desk
PANAJI: Today, Aam Aadmi Party (AAP) Leader Valmiki Naik held a protest plantation drive at the Caranzalem beach stretch.
"The trees on the beach are natural defence of the coastal areas of Taleigao and Panaji. They will protect the area from natural disasters such as cyclones, Tsunami, sea-level rise and not the sprawling constructions," said Naik.
He further said that destroying the trees and sand dunes would be a disaster for the areas.
"Despite complaint from the locals, the flying squad failed to respond and take action," he questioned.
Comment