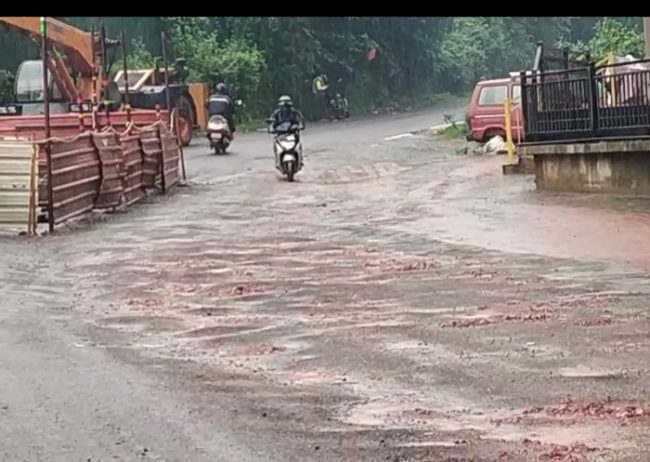 Goemkapronn desk
PONDA: Like elsewhere in the State, Ponda roads have turned from bad to worst and has been a horrifying experience to motorists.
The pothole-ridden roads have become a significant risk to teh lives of commuters.
Ponda locals have pleaded with the government to repair and restore the Ponda road before Ganesh Festival.
As the festival is around the corner, there is a lot of rush on the road, but people say they are scared to venture out.
Vishal Fadte residing in Ponda City said that the festival government must repair the road as thousands of people visit Ponda markets for matoli bazaar, shopping for various goods.

"There are chances of injuries due to the condition of road while riding through potholes. Many two-wheeler riders, especially bike riders, have met with accidents after travelling on Ponda City's pothole-ridden roads. Especially, in rains the potholes are not visible," he said.
Avinash Ramnathkar says the long-pending work on sewerage is still progressing at Daag Ponda, and due to this, the road is damaged at this stretch.
Another local Vishal Fadte says many people complain about back pain from riding on pothole-ridden roads in Ponda City.
"Except for Khadpaband road, the other roads in City are not hot mixed for the past four years. Moreover, the digging work for 15 MLD STP, which is coming up at Kavlem," he says.
He says as just a few days are left for Ganesh and other festivals, people have started visiting Ponda market for shopping.
While the roads are in bad condition, locals complain, the traffic police are busy in their own world.
Despite traffic congestion, traffic police are busier in issuing challans rather than managing traffic and providing parking space.
"Police must focus on illegal parking and vendors on streets and footpaths for smooth flow of traffic, but they are busy somewhere else," locals complain.
Avinash Ramanthkar, a local of Ramanthi Bandora, said it's now four years since the locals of Bandora, Kavlem, Talaulim are suffering by travelling on bad roads.
He demanded to provide an alternative road by opening Kavlem – Khadpaband road as Daag – Ponda one km road is dangerous and bumpy for riding.
"Many bike riders have met with severe accidents. We were assured by PWD Minister to complete work by May 2021. Now he should conduct an inquiry why work is not completed," he asked.
On account of sewerage work, the Daag Ponda road is sometimes closed for heavy traffic on Ponda –Marcaim road is diverted via Dhavlim.
Locals have to waste fuel by riding 3 km extra.
Besides, traffic congestion at Ponda City is witnessed on Ponda Tisk Junction to Daag Kavlem road, where sewage work progresses with huge chambers dug at the roadside.
PMC Chairperson Shantaram Colvekar said he would look into the matter and open Khadpaband road temporarily to solve the problems of locals. He said work was delayed due to ongoing sewerage work.
"The work was delayed due to a technical problem with basalt rock formation as the main hurdle at the final stage. He would discuss the issue with the chief officer and traffic police, and stakeholders to sort out issues," he said.
Comment