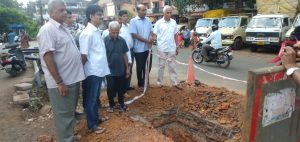 Goemkarponn Desk
PONDA: The People of Ponda (POP) to protest against fresh and dangerous road digging at time of monsoon. Goa Road Safety, PoP, NGOs protested against road digging.
PoP member Dr. Raghunandan said despite collector order that by 15 May all road digging works should stop, however the road digging is going rampant manner without any thought to public safety in monsoon.
Locals fears incase of rain mud dumped at Roadside will make road slippery and also develop potholes. The locals were used to see the road digging is continued without any concern and hardship to citizens.
Goa Road Safety Forum Dilip Naik said government fines people for violating traffic rules but what message it want to give to people by violating itself the prevailing law. How can it dig road when it's time to restore road and conduct permission work.
The People of Ponda fed up with continuous fresh digging of roads protested against the ongoing underground cabling work of the electricity department, Sewerage work and Gas Pipe line work. Locals gathered at Borkar petrol pump road several one meter deep trenches dug up by power department.
The POP Members said " We are not against the actual work but against the wrong timing and irresponsible execution without any coordination between the departments.We intend bringing the matter to the notice of all citizens and all the concerned authorities and so has organised protest at Borker Petrol Pump, Ponda where several chambers are dug for power cable networks.
Meanwhile The Pondaitees fear rain could commence anytime and incase the chambers fill with muddy rain water it could be risky to lives of pedestrians and commuters.
Comment