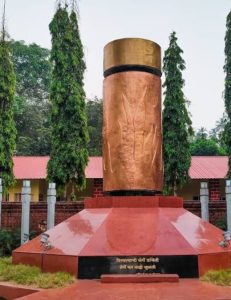 Union Defence Ministry is positive towards handing over the major portion of Kranti Maidan land back to Ponda Municipality.
Chairperson Ritesh Naik says Union Defence Minister took cognizance of his letter, and he received a letter from Home Minister Rajnath Singh.
Goemkarponn desk
PONDA: Pondaitees hopes to get possession of the entire Kranti Maidan land from the Military.
Recently Union Defense Minister Rajnath Singh has taken note of the letter of Ponda Municipal Council (PMC) Chairperson Ritesh Naik regarding handing over the remaining portion of the Kranti Maidan in Ponda from the custody of the Army to PMC.
Union Minister Rajnath Sing, in his letter to PMC Chairperson, said that appropriate action will be taken in this matter.
Following this development, the Pondaitee's hopes of getting about sixteen thousand square meters of Kranti Maidan to the PMC shortly have been boosted.
It may recall that PMC, the original owner, has possession of a small portion of Kranti Maidan.
During Goa Liberation entire Kranti Maidan possession went to the possession of the Army.
However, in 1991 then, Defense Minister Sharad Pawar Minister responded to then Chief Minister Ravi Naik's appeal, and part of the ground was given to Ponda Municipality, and still, the major portion of Kranti Maidan lies with Army.
This Kranti Maidan has a Martyr's Memorial, and every year national festivals are celebrated at this place, and entertainment programs are also celebrated. But due to lack of space, people are inconvenienced. Pondaitees want open spaces for various programmes.
Comment