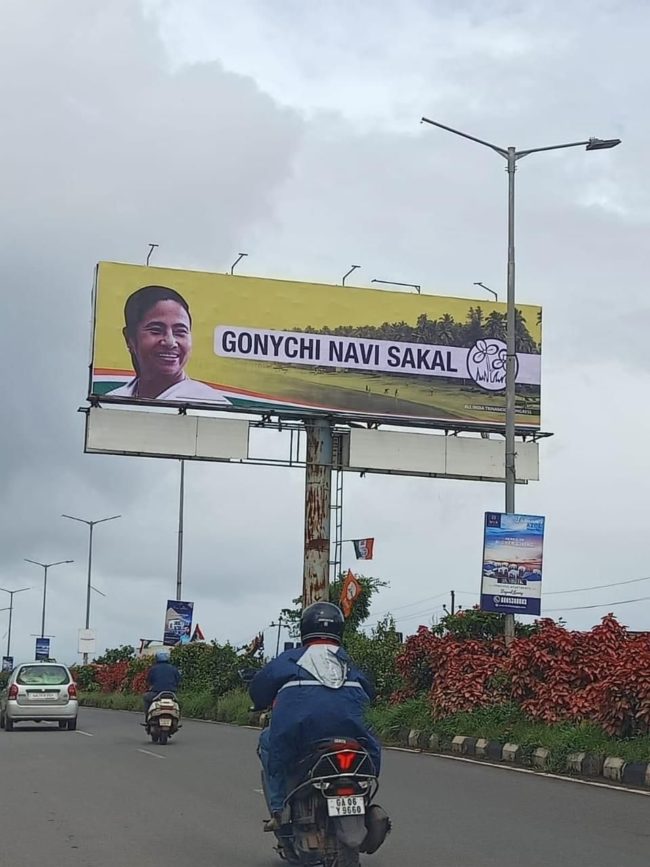 Goemkarponn desk
PONDA: Wth elections within five months, the Trinamool Congress' surge in Goa has given Goans yet another option to vote.
With the Didi-fever slowly gripping teh Goans, many opine this time the Mamta Banerjee party would definitely make an entry into the State Legislative Assembly.
The strong reason for this is that Didi is a strong iron lady who defeated BJP in West Bengal. If she comes for a Goa campaign, there could definitely be Miracle in Goan Politics.
Trinamool Congress may have earlier contested elections in Goa, but there is a lot of buzz around the Trinamool Congress Party.
After the entry of prominent Congress leaders like Luizinho Faleiro, people felt Didi's Party would make an impact, and Trinamool would open its account with some seats in the assembly, especially from South Goa. The reason people feel so is that her party defeated BJP in recent elections at WB.
Krishna Naik, who has knowledge of the politics of South Goa, said there is a lot of development expected in the future.
He said Trinamool Congress can win three to ten seats in South Goa under the leadership of Faleiro.
"If they get support from North Goa, the seats can be increased. Later TMC may join Congress, and other opposition parties Party may form Government if BJP is defeated in the 2022 election," he said.
He said the General public is unhappy with the rising cost of inflation, skyrocketing fuel prices, gas, and commodities and want some respite from this.
"They expect all political parties, including Didi, to bring down inflation. Though there are a lot of opposition parties to fight against the ruling, people also feel that if the Mamata Didi Party contest against BJP, it would also bring change in Power after the 2022 elections," he said.
Umesh Naik of Ponda said everybody knows how Mamta Didi defeated BJP in WB despite PM Modi campaigning against her in Bengal.
"If she comes for the campaign in Goa, then it would further help the party's cause, and with help from some top and popular political leaders in Goa definitely her party would grab some assembly seats and help defeat BJP," he said.
Ponda people also feel that all is not well in Congress Party in Goa.
"The Big Bahujan popular Leader like Ravi Naik, Congress MLA, is unhappy with Party President Girish Chodankar and Opposition Leader Digamber Kamat," said Sandesh Naik of Marcaim.
He said in such situations, if Ravi joins Trinamool Congress, it could be another blow to Congress but could benefit Trinamool Congress to win the seat.
"Ponda Bahujan leader Ravi Naik has large followers/ supporters which is his personal vote Bank. He has around 7000 thousand supporters at Marcaim and a similarly equal number of supporters at Ponda Constituency. Ravi even said that individual achievement is sufficient for him to contest elections," he says.
Comment